By Jase Walker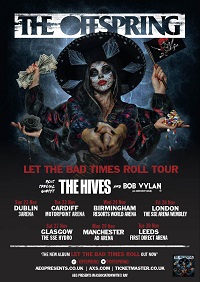 The Offspring, a mainstay of my teenage days, hit Manchester on the penultimate night of a tour in support of their latest album, 'Let The Bad Times Roll'. This is legitimately one of the best venues I've ever been to in the whole of the ÜK: it's bloody massive and the right venue to see a band like this.
With a small delay, we're seated about halfway through Bob Vylan's set, and I have to admit this isn't what I was expecting at all. I've heard good things about this guy, he's at 2000 Trees next year so might as well see what he's all about. I'd describe this as.. Grime Punk? The London-accented, deadlock sporting lad is clearly loving having people in the audience checking him out.
With just him and a drummer on stage, a minimalist show in contrast to what's about to fill this arena shortly, he struts around the stage of this size like he bloody owns it. The raw energy of this show, despite only live drums and Bob Vylan himself translates extremely well and he's clearly loving every minute he's on here and is a well-deserved support slot – I think The Offspring probably see a bit of their younger selves in him.
The Hives kick off their set with a banger like 'Main Offender'; I don't think there's a better way they could have got things going. The Swedes are clearly glad to be smashing a tour back in old Blighty and they're a sight for sore eyes. I've not seen these guys live for many years now but have always been a massive fan of theirs since they hit the big time after catching them at Leeds Festival many years ago.
Blurring the lines between stand-offish types with their genre purist stances, The Hives give off an aura that crosses rock n roll, punk and indie. Another banger with 'Walk Idiot Walk', a full-on screaming chorus, I'm completely absorbed in this live show and feeling like a teenager again – I think my brother would be pretty jealous about this, ha ha.
What Hives would be complete without 'Hate To Say I Told You So'? The crowd immediately responded to this with a "oh I know this one" sort of energy and it's great to see! Admittedly the audience for this is around the same ages as myself and seeing the front of the crowd go wild, I feel like I'm with my people here. Finishing with 'Tick Tick Boom' they hit a midpoint where they all freeze on stage, which I've only ever seen one other band pull off properly. If you think The Hives might be past it, they absolutely aren't, what a fantastic show the Swedish punkers put on, what a band.
The Offspring kick off with their bloody massive stage show, a gigantic screen behind them flashing a mix of Mexican De Los Muertos style images and live images of them on stage. The Arena is packed by this point, the audience a sea of clapping hands, while the front is going wild right from the start. Not even wasting any time playing the old bangers, the second song in is 'Come Out And Play' and 'Want You Bad': I honestly thought this would be a bit further back in the set but I'm not complaining!
Part way through Noodles decides to give people a "rock music 101" lesson with how to put together 'Paranoid' by Black Sabbath or 'Trooper' by Iron Maiden before leading into a segment called "Noodles plays with himself", playing more random Metallica or Slayer. You see, The Offspring is a mix of a punk and comedy act. Admittedly this segment is a bit longer than the last time I saw them at Download Festival, but brilliant nonetheless.
Continuing with the old bangers, 'Why Don't You Get A Job' gets followed up with 'Original Prankster' and even '(Can't Get My) Head Around You' – we are definitely in the 'old fan pleasing bit' and I'm totally here for it. I'm sat here being instantly transported right back into my 18-year-old's head and wishing I was in the middle of that crowd: this show really is something else. The sound, the visuals, everything about it makes me overjoyed to be a part of this experience and I'm overwhelmed with nostalgia.
I can't keep up with this… 'Pretty Fly For A White Guy', then 'The Kids Aren't Alright': I'm completely lost in a sea of my own euphoria. How am I even supposed to write a review about this? I'm so absorbed in the moment, screaming every word to these songs and I'm genuinely struggling for words to describe how much joy I'm feeling right now.
The encore hitting with 'You're Gonna Go Far Kid' and finishing with 'Self-Esteem', I am questioning how much absolute joy I'm feeling right now. I don't even appreciate punk that much these days, but I can't get enough of this right now. The Offspring aren't over the hill with a live show like this; they're every bit as raw as they have been for years, and this has been an incredible experience. Thank you, this has been marvellous.
The tour finishes at the First Direct Arena in Leeds tonight (30 November).
All content © Über Rock. Not to be reproduced in part or in whole without the express written permission of Über Rock.