By David Stewart
Since their inception in 2004, Stormzone have seen many lineup changes over the years, most recently seeing the departures of guitarist Jr Afrifa and drummer Jonathan Millar, the latter of whom was with the band on loan from Belfast rock outfit Maverick. With the exits of those two members, we see two returns to the Stormzone camp, guitarist Dave Shields and drummer Davy Bates. This is also not the first time that Stormzone have shared a stage with The Electric Boys, as they had done so at a festival in the Boys' native homeland of Sweden back in 2009.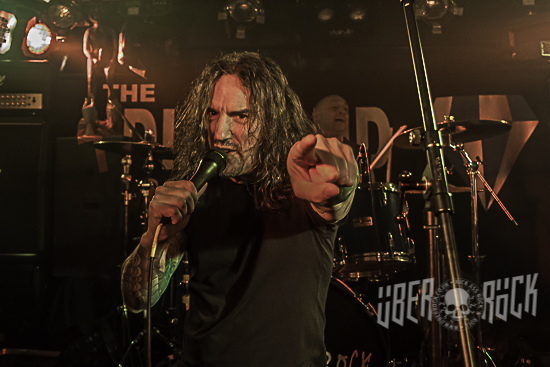 The Diamond had started to fill up nicely by the time Stormzone hit the stage. Fresh from performing in Osthessen, Germany at Full Metal Festival just a week prior, Stormzone, with their re-united line-up, so to speak, hit the stage with the popular title track from their 2013 album 'Three Kings', and then cut straight into 'The Pass Loning', also from the same album.
After the opening two songs, frontman Harv Harbinson jokingly informed the crowd that they were just winging it with which songs that they were going to perform as they hadn't decided on what to play. Though someone at the front pointed to a set list at Harv's feet asking "whats that then?"
'Immortals' was up next, followed by a well-received 'Another Rainy Night', followed then by 'Secret Gateway'. After that, it was time for some newer stuff. The title track of the current album 'Lucifer's Factory', then followed by the folk inspired 'Cushy Glen'.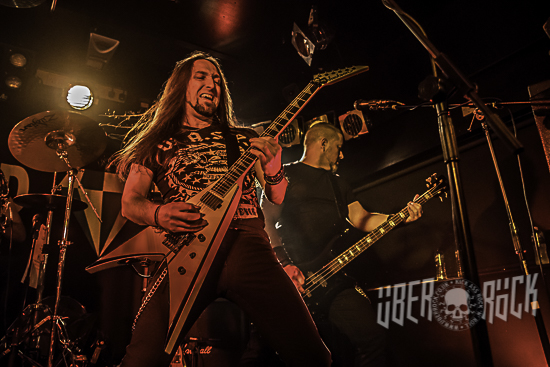 A few songs later and Stormzone were approaching their alotted forty-five minutes, but still managed to squeeze in their last two songs, running only seven minutes over. As Harv pointed out prior to the last two songs though, they aren't really used to only a 45 minute set.
A great set, a mix of old and new as well as two returning members. Dave Shields' great melodic rhythm playing perfectly complimented Steve Moore's killer leads. Davy Bates, who is probably the happiest drummer that I have ever seen, as he hardly stopped smiling throughout the entire set. Graham McNulty's driven bass, which keeps the songs pumping. Then there is Harv Harbinson: voice, presence, charisma… pretty much what any band would want in a front man.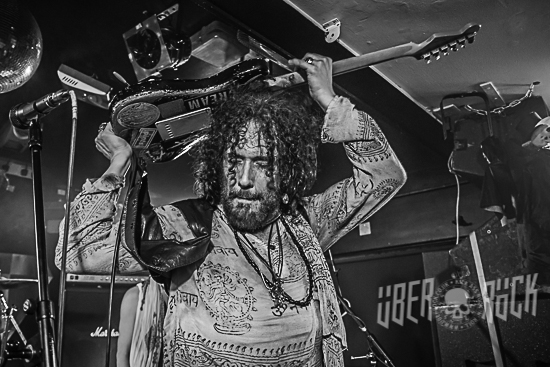 Up next were the headliners of the show, The Electric Boys, led by frontman Conny Bloom. Despite a lengthy 14-year hiatus, the band has seen very few line-up changes over the course of its existence. Although Bloom has played on these isles once before, almost 20 years ago with Ginger Wildheart's project Silver Ginger 5, this is actually The Electric Boys first time ever performing in Northern Ireland: all credit to Derwin McFarland for bringing them over.
Kicking things off with recent single 'Hangover In Hannover', then shifting gears and going way back to 1992's 'Groovus Maximus', I knew early in the night that I was not going to be disappointed, and disappointed I was not, as next came one of my personal favourites, 'Mary In The Mystery World'. Live, this sounded just as good as it did 27 years ago and made me think back to that time with fond memories.
After the next song, 'There She Goes' Bloom was handed a note from a crowd member requesting that they play 'Dying To Be Loved', and if they played it he would get him a Jamesons. Jokingly, he refused at first, reminding the audience that he had once done an advert for Jamesons Irish Whiskey and had received 24 bottles of the stuff from the company for doing the ad. Bloom said that it wasn't on the set list and they hadn't played it for a while but would give it a go. Bloom began playing the song but quickly realised that he needed to tune his guitar to play it. While he was tuning he told the crowd that he had recently broken his guitar, to which drummer Niklas Sigevall replied that his guitar had always sounded shit anyway. Bloom came back quickly though by asking the crowd if he had introduced Santa Claus on drums. The audience then started up with a chorus of Santa Claus chants. I've got to admit, there certainly was a striking resemblance!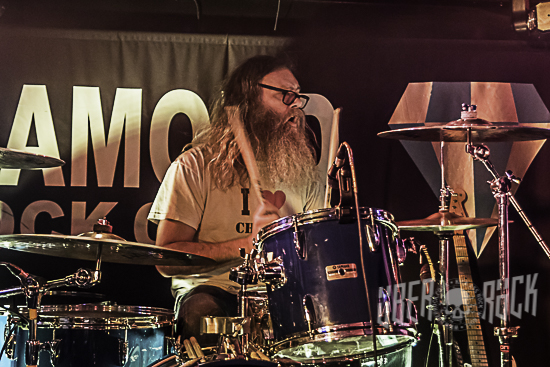 This banter gave Conny Bloom the time needed to get his guitar tuned for the song and went straight into playing 'Dying To Be Loved'. The crowd loved it and gave it one of the loudest ovations of the night.
A few songs later, and right after playing 'Electrified', the audience member who handed Bloom the note, reached up to him the promised Jamesons. He didn't only get one for Conny Bloom but got one for each member of the band.
They started into their next song 'Knee Deep In You', but before they got into it Bloom stopped playing, stating that he didn't feel ready, and then taking a mouthful of Jamesons before exclaiming that now he was ready. They started the song again, only this time for drummer Sigevall to not come into the song where he is supposed to. They all stopped playing and looked at him. Sigevall announced that he wasn't ready this time and took a large swig of his Jamesons Irish Whiskey. Bloom asked the band if they were all ready and went into the song.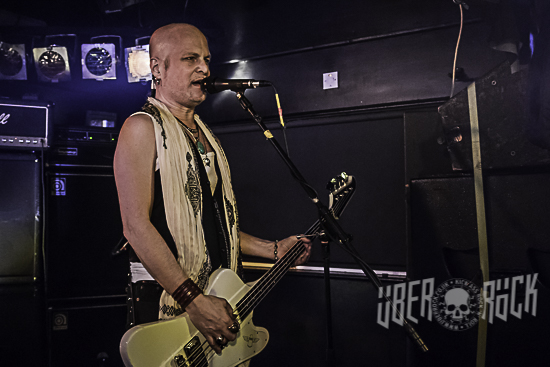 Up next was 'Gone Gone Gone' which is from their most recent album 'The Ghost Ward Diaries' which was followed by the instrumental 'Swampmotofrog', which also follows it on the album. This was where we were treated to how tight this band really is and how good of musicianship these guys have, as what followed was funky, rocking, dirty blues that allowed the members of this band to show what they can do on their weapons of choice.
Next came 'You Spark My Heart', from the same album as the previous song and instrumental, followed by the classic 'Rags To Riches', and was then followed by the song 'Angel In An Armoured Suit'.
The band then left the stage but weren't off for long before returning to the stage for their encore performance. Firstly with 'First The Money, Then The Honey', which was then followed by probably their biggest and most well-known song 'All Lips And Hips', which had everyone in the crowd up dancing and singing along to.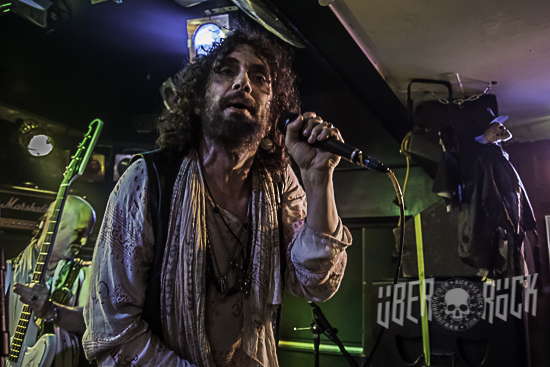 At the end the band thanked the crowd for coming and spending the evening with them, which was followed up by Conny Bloom informing the crowd that they will be back.
Overall, this was a great gig by the guys. As I mentioned, it was their first time ever performing in Northern Ireland and they certainly didn't disappoint, although I was a little surprised to hear nothing from their 1994 album 'Freewheelin''. The gig was not a sell-out but the vibe was good, the crowd that were there were into it and the band themselves seemed to enjoy themselves every bit as much as the crowd.
PHOTO CREDIT: All photos © the author/Über Rock. You can view our full gallery of photographs HERE.
All content © Über Rock. Not to be reproduced in part or in whole without the express written permission of Über Rock.