By David O'Neill
The Darkness are like Marmite and Brussel sprouts – they completely divide opinion: there is no middle ground!  I have always taken their musical offerings at face value, from 'I Believe In A Thing Called Love' to 'Its Christmas Time' and 'Barbarian', they are what they are.  I'm not afraid to say that having seen them live twice atop the mountain for Steelhouse and now reviewing this latest offering I'm firmly in the same camp as I am for Marmite – I LOVE THEM BOTH (sorry but I hate sprouts).  There I am not afraid to say it!
No one can say that the Hawkins boys are afraid of the things they offer. Whereas 'Barbarian' blew many away with how heavy it was, this album of nine tracks is firmly in the pop rock/glam genre with some serious tongue in cheek lyrics from the outset of 'Welcome Tae Glasgae', on which some huge drumming and baseline riffage is counterpointed with Justin's lyrics and lines like "regard my Curriculum Vitae".  The single from the album, 'It's Love Jim,' reminds me of the guitar hook from the Raveneye track 'Come With Me' but continues along the Star Trek commentary of the lyrics; again it's a very catchy track and I can see why it's the single.
Two tracks in and I'm still smiling before the title track hits. A bit heavier than the first two tracks, and another lyrical smile arises with the line "I need a Phillips screwdriver to get her undressed" keeps it coming.   The rat a tat-tat of the guitar and drums machine guns the song along and is guaranteed to have you tapping your feet and nodding your head. "When I've had enough of her I'll just put her on charge": great line!
'The Power And Glory Of Love' has a bit of an AC/DC opening guitar sound to it, but Justins' falsetto is a completely different sound to the vocal of Bon Scott – and the lyrics, well… Then you run into 'Jussy's Girl', which makes you think of 'Jessie's Girl' by Rick Springfield – but that's where the similarity ends. I mean, with lines like "I'm repulsive I make you wanna hurl" it's more like a Mike Myers track than any serious rock track. Then add in the line "I wish you were Jussy's girl – every split end and every curl": Im grinning from ear to ear.
I'll leave commentary on 'Sticky Situations' for you to make.  There is not a lot to say… 'Nobody Can See Me Cry' has a bit of a rapid fire guitar riff and vocal that is hammering along through the three minutes 17 seconds of the full on energy and breathless guitar riffage and drumming.  'Eastbound' is a bit a reflective journey home, with a really great chorus that keeps it going before the spoken commentary of the possible 'pub crawl' section that really makes you grin as if it's a normal Friday night lads chat. Closer 'Speed Of The Nite Time' has an 80s new romantic/Spandau Ballet/New Order parody to the sound.
As I said, I was a fan before listening to this album. Its 35 + minutes of sheer entertainment and some serious instrumental ability. Love it, buy it worth it!
'Motorheart' is out now. You can get your copy HERE.
The Darkness are currently on tour in support of the album. Get to the gigs, you will not be in the least bit disappointed – ever.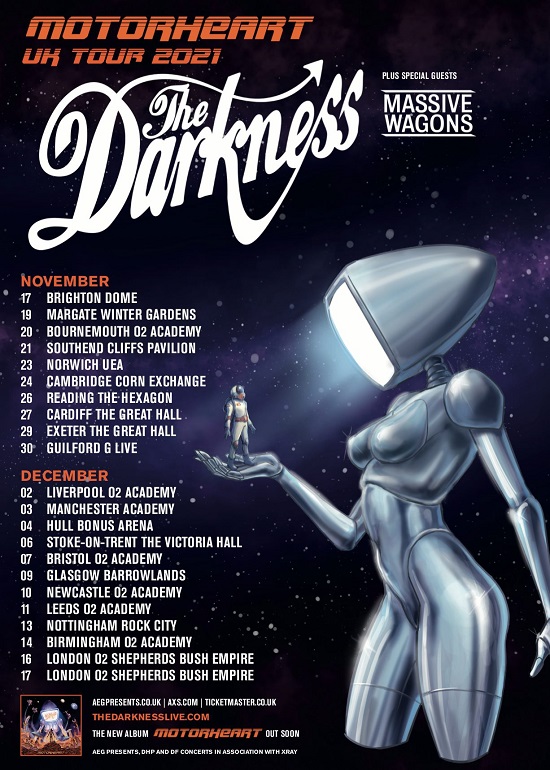 www.facebook.com/thedarknessofficial
All written content © Über Rock. Not to be reproduced in part or in whole without the express written permission of Über Rock