By DJ Monk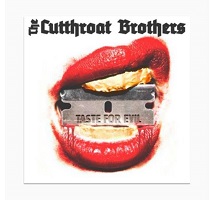 I'm not a big fan of musicals – they're twee, they're unappetizing and, by and large, they don't contain very much that is rock 'n' roll. There are a couple of exceptions, of course, one of the most obvious perhaps being the totally in(s)ane 'Sweeney Todd'. Being married to a barber probably helps to bring it a bit closer to home, especially when that blade sweeps across your throat and you realize how much nearer that life insurance policy is getting to being cashed in… which brings me neatly to the subject of this review…
The Cutthroat Brothers are actually two real-life barbers who get their kicks more from delivering dirty, lowdown, garage rock 'n'f'n roll than they do from trimming beards and locks (although I'd challenge them to do a better job than our beloved DQ any day of the year). And with this, their second album, they definitely, and defiantly (to use one of my well-worn trademarked catchphrases), would have Stephen Sondheim hitting speed dial should he wish to re-imagine a 21st century Rob Zombie-directed version of his musical.
The "brothers" – Jason Cutthroat and Donny Paycheck – draw on their mutual love of acts such as The Gun Club, The Cramps and the Eagles Of Death Metal to produce a collection of dense, diesel-soaked garage-recorded anthems that reach out of the nearest sewer to grab you by the balls and drag you down to their level, screaming in delight at the indelicate, gruesome, abhorrently attractive delights which await you in the netherworld of this particular rawk 'n' stroll nightmare.
The opening psychobilly romp 'n' stomp of the title track sets the tone, slitting your musical veins open with a psychopathic grin as you watch your blood splatter all over the walls and then run around licking it all off, ready for the second course… but there's nine more to come, as 'Shake Move Howl Kill' takes you into a dark world even Tarantino couldn't imagine in his worst nightmares. Before you know it, you're spinning 'Out Of Control' and you know that, even though everything is 'Wrong' it feels oh so fucking right! Light a 'Black Candle' and take your 'Medicine' you wimp 'cos it's 'Killing Time' – and, if you're a good boy, you'll get some 'Candy Cane'.
'Taste For Evil' shows why it is worth keeping your ears open (especially when there is someone standing behind you with a razor in their hand) and accepting rock 'n' roll in all its nefarious forms, 'cos this is an album that came at me from totally leftfield and now refuses to leave my stereo system (well, until DQ takes that blade away from my throat anyway!).
'Taste For Evil' is out now. You can get your copy HERE.
www.facebook.com/thecutthroatbrothers
All content © Über Rock. Not to be reproduced in part or in whole without the express written permission of Über Rock.