By Monk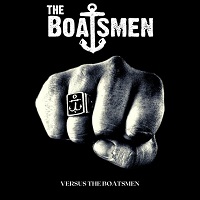 I have to say that I'm very feckin' glad that I'm not a driver looking to rent a garage in which to park my top of the range Volvo anywhere in Sweden. Why. Well, putting aside the fact that I can't afford one, mind you – and especially seeing as I don't drive – every garage the length of the Scandinavian peninsula seems to be occupied by dirty punk 'n' roll bands pumping out album after album of quality, riff-filled party songs… as exemplified by this latest offering from the four brothers in musical arms, who ironically hail from the landlocked city of Örebro…
Drawing on the "action rock" pedigree of the likes of Hellacopters, Turbonegro, Gluecifier and Backyard Babies, everything about this album exudes rock 'n'f'n' roll. You can practically smell the sweat caught in their black leather-clad armpits. You taste the warm beer spilling from the amp tops, and you can't help feel the urge to lick away the spittle hitting your face before ducking to avoid a swinging guitar-head: yes, it feels that up close and personal. It's DIY, it's greasy and it's the soundtrack to that massive party that's waiting to happen once we get out of the other end of this shitstorm that has been the past 14 months or so…
It's also another defiant and strident middle finger to those who continue to claim that rock 'n' roll is dead. Who are these assholes? Do they not read your favourite website to realize that nothing could be further from the truth? Everywhere we turn, we are being 'Saved By Rock' of a quality and standard that is so outstanding that it sometimes defies humble words such as these. In fact, I'm not even going to pontificate any further about this exemplary release, as I'm away to grab another beer (and maybe a bottle or three to chase it down with), turn the volume up to neighbour-annoying volumes, hit the repeat button and start that party early… oh, you're all invited!
'Versus The Boatsmen' is released today (Friday 23 April). You can get your copy HERE.
All content © Über Rock. Not to be reproduced in part or in whole without the express written permission of Über Rock.