Written by Team Über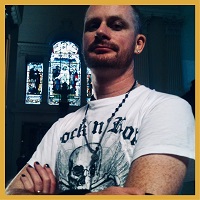 Last year's 'Testament' compilation album established the reputation of Eden's Curse as one of the finest melodic metal bands to have been produced by these here islands in recent years. Now, as the band look forward to a headline tour of the Über Kingdom of Rock 'n' Roll a bit later in the Spring, we took the opportunity to catch up with founder/guitarist for a quick natter about what 2019 holds for the Curse…
We started off by congratulating Paul on the success of their 'Testament – The Best Of Eden's Curse' retrospective – and pondered if that means that the guys are splitting up now?
Ha ha! No, but I get the context. A lot of band's seem to break up and then release a 'Best Of…' album to fulfil contractual obligations. But I hate to disappoint you – we are going nowhere!
So why now then?
The timing of the release came via discussions with our label AFM Records. We have such an open and close relationship, having worked together for over 12 years and we are constantly bouncing ideas off each other. We both felt it was the perfect time, especially with us heading out on a big UK tour with Michael Schenker Fest. One of our main aims on that tour was obviously to win over new fans and 'Testament' would hopefully be a great tool for helping convert those people who liked what we were doing on the night into hardcore fans.
'Testament' is not your typical 'Best Of…' release that has two or three CDs full of the band's greatest songs. You instead have opted for one disc with 14 of the band's best songs and a second disc of bonus tracks and a brand-new song. Can you explain why?
Sure! The aim is simply to appeal to fans both old and new. Disc one is primarily aimed at potential new fans. If you always fancied checking out our music and don't know where to begin this, is in our opinion, is a great starting point. For the guys that have the albums already, then it's a good compilation with arguably all our big songs on one CD. Disc two was compiled especially with our long-time followers in mind. We are very much a band who listens to its fan base and for many years we have been asked "can you release all the bonus tracks on one disc?". Unfortunately, for contractual reasons, that was unable to happen until now, as we extended our worldwide deal with AFM Records and they now hold all the rights. There are a couple of extra special tracks that have not seen the light of day on general release before and of course a brand-new song called 'Forever'.
Who chose the tracks for the best album and put the running order together?
I chose the songs with our A&R director at AFM Records, Mr Timo Hoffmann. I put together the running order exactly like we would perform it as a set list, if we were playing it live, and I think it really works.
In April 2019 you will undertake the 'Testament' tour in the UK. What will feature in the set?
We will play 'Testament' in full along with the new song, 'Forever'.
And you have two amazing support bands in Mob Rules and Degreed as part of a brilliant triple package?
Yes, that's right! Mob Rules are one of my favourite bands, but I have never seen them live before. So naturally I was delighted when they accepted our offer. Degreed are relatively new to me. I have heard the name before but only caught them live for the first-time supporting H.E.A.T in Glasgow and then we played together in Malmo at Melodic Rock Fest Scandinavia in Sweden this past summer. So, I kept them in mind when it came to looking for a third band for the tour. We worked very hard on getting a package together that really stood out for the fans, and when it was announced it seemed to receive a very positive response. The proof is in the pudding though and it's all about how many people turn out for the shows though. So, get your tickets bought people!
Speaking of tours, rounded off 2018 with a UK tour supporting Michael Schenker Fest. How was that experience?
The tour was excellent. As I mentioned above, our main aim was to win new fans and we certainly did that. We played very well every single night and got better as the tour went on. Some of the stage times were a little earlier than we would have liked, as Michael was playing a near three-hour set, but beggars cannot be choosers and we were delighted to be involved and playing on some of the UK's most iconic stages.
What shows were the highlights?
Glasgow, as always! SWG3 was packed and the gig went like a dream. We opened the Hard Rock Hell XII festival in North Wales in front of a very full room and London at the iconic O2 Forum in Kentish Town was superb.
Now that we're bedded in to 2019, what's next for Eden's Curse?
We will perform at Planet Rock Radio's Winter's End Festival in England in March, and as mentioned above, we will undertake the 'Testament UK Tour' in April. For the remainder of the year though, we will be focusing on writing our next album, which we have begun but not in earnest.
So, you have actually started writing?
Yes! I have recorded one instrumental track with our drummer John and have several new riffs and ideas recorded, but in very early stages, with maybe only one song pretty developed, instrumentally at this point.
You guys always seem to have a very clear idea of where each album is headed. Is it more of the same?
First and foremost, I am always very sure of what I want to write, which for me is always just good quality melodic hard rocking metal music. It is never forced but I always write for myself first and foremost. We will never stray too much from what we are all about, after all it is our identity, but I think our fans can hear with the newer track 'Forever' what this line-up of Eden's Curse is all about and capable of. We have several ideas that I am very excited about and that for me is what keeps writing fresh and interesting. If it doesn't excite you then don't bother!
Care to elaborate further?
Not too much, but I am exploring some lyrical concepts that are pretty cool.
A concept album?
I never said that ha ha!
But you never said no?
No, I didn't ha ha! We will see. I am not committing to anything at this stage.
When do you expect to have the album ready?
We haven't even written it yet, so not before 2020.
Eden's Curse tour dates are as follows: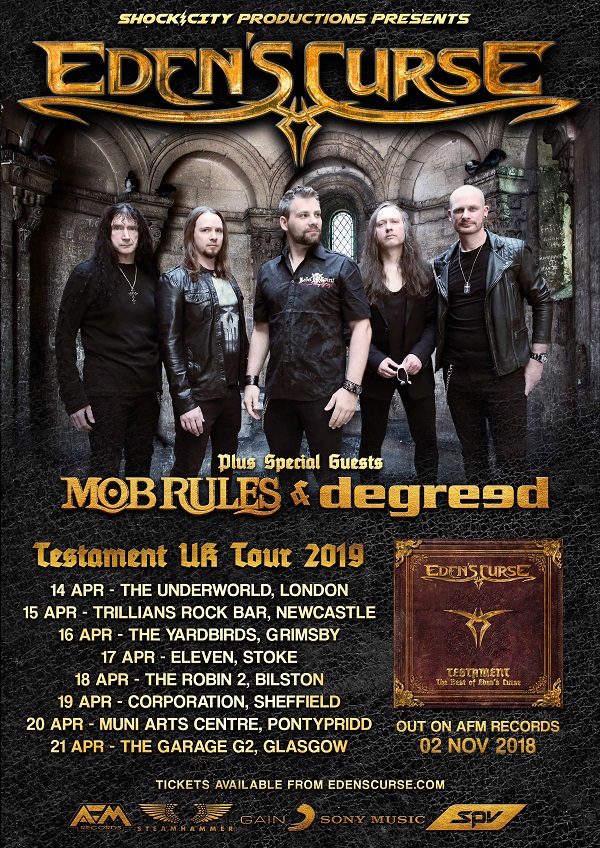 Tickets for all shows are available from all usual outlets.