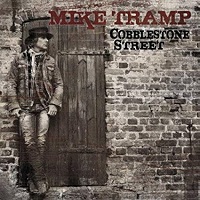 He may have played some of the biggest stadiums in the world, and partied alongside some of the biggest names in the business, but that was 20 years ago… and these days it is the simpler things in life which provide the 'mane attraction' for Mike Tramp. Things such as walking the once cobblestoned streets and docksides of his rediscovered hometown of Copenhagen, and travelling across Europe with his guitar on the backseat of his car, playing to small crowds in intimate venues and then hanging out afterwards for a pint.
This is certainly the side of the former White Lion/Freak Of Nature frontman which Über Rock's Mark Ashby found when he caught up with the singer just before a promised return gig at the Diamond Rock Club, a bespoke little venue nestled in the County Antrim hills about 45 minutes drive from the Northern Ireland capital of Belfast.
Über Rock TV proudly presents an in depth, and brutally honest, interview, which covers everything from Tramp's latest, and arguably most personal, album to the (possibly touchy) subject of a White Lion reunion:
All content © Über Rock. Not to be reproduced in part or in whole without the express written permission of Über Rock.