By DJ Astrocreep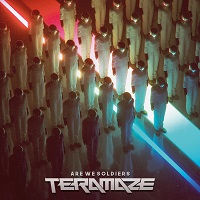 On to the sixth full release of their career, Teramaze may well have found a career apex point. While their newer lyrical approach isn't quite as much to my personal liking as their earlier career, this is undoubtedly their most polished release to date.
From the very off, the marker is set by 'Fight or Flight', with the bar set high and kept there, through the following title track 'Are We Soldiers', with the expected more than achieved by returning vocalist Brett, guitarist and founding member Dean and the rest of the band, there are times that the synths take more prominence, adding to the depth of sound that they have achieved so remarkably here. It's hard to even single out specific songs as high points when the standard of the whole release is of such high quality, meaning choosing something to recommend as a starting point – other than the obvious very beginning – is a moot point, as you could easily pick any and not be disappointed.
The tracks slide well into one another, to the point that it's only the couple of seconds gap my music player puts between each (deliberately done so I can keep track of where I'm up to, for albums such as this!) that often differentiates the change in track. Not to say, in the slightest, that the tracks sound the same – there are clear ideas in each – more that the release is so well rounded and created that it almost feels like a full concept album designed to be heard as one, rather than individual tracks. The metal edge is present throughout the album, yet it doesn't stray too far into it at any point, giving enough to keep the appeal of those into their heavier Prog, without being off-putting for those who err towards the more melodic and rock end of the genre, while freeing up Dean to write with the freedom he so clearly has revelled in on this release.
I expect this album to be pushing for a spot in my top 20, come year end. In other circumstances, without so many high quality releases already out and many expected to come later this year, it would already be a sure thing. A fantastically written, performed and produced album, full of uplifting vocals, highly adept musicianship across the board and a wide showing of talent. A must have for any fan of Prog, Power/Symphonic metal or even tracks with a penchant for the dramatic different, such as Ozzy Osbourne's 'Diary of a Madman'. While the likes of Caligula's Horse and Plini may have spent the last few years as the pinnacle of Antipodean Prog, Teramaze have fully earned the right to be ranked alongside them with this release.
'Are We Soldiers' is released tomorrow (Friday 21 June). You can get your copy HERE.
All content © Über Rock. Not to be reproduced in part or in whole without the express written permission of Über Rock.