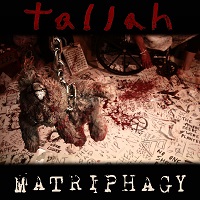 I don't know Tallah, but I was drawn to review their album because of its concept. 'Matriphagy' is based around the idea of a son's catastrophic psychological breakdown having faced years of abuse, torture and imprisonment by his mother. A quick look at some of the live performances from the Pennsylvania-based band as they try to deliver the story of 'Matriphagy' reveal chaotic scenes. Highly aggressive and energetic, the first impression of Tallah is that they do a very good job at coming across as unhinged. I wouldn't like to be there when this young man exacts his retribution.
In trying to find out the origins of the band name, the best I can come up with is that Tallah means 'Devine' or the one for all to 'follow'. That seems fitting as the line up includes YouTube sensation Justin Bonitz, a man who, when his first band, 'amneon', split, simply learned to play all of the instruments and continued to release music online. Now a producer, comedian and sole member of new project 'Hungry Lights', it looks to me that much of the word porn apparent in Tallah's identity might stem from his clearly highly creative and vivid imagination. Nevertheless, the creation of the band in 2018 was actually down to drummer Max Portnoy, son of Mike (Dream Theater/Sons Of Apollo/etc.). He brought together Andrew Cooper (bass) and Derrick Schneider (guitar) before seeking the help of his dad to contact Bonitz.
So, let's enter the rabbit hole and take a look at Tallah's creative efforts. From the start I sense this isn't going to be a cakewalk. The artwork on the Facebook page depicts childishly drawn unhappy faces splattered with blood. The album is available on black vinyl or clear blood spatter versions. What's more the album title, 'Matriphagy', has no meaning in itself but is an ugly fabrication of words that essentially mean 'consume the mother'. *Pauses to process this information… I'm assuming mum didn't survive then.
The story begins with the ominously titled and frankly creepy intro '[redacted]' in which you can hear deranged mutterings descend into maniacal laughter as you get your first glimpse of the devastation you are about to witness. If the records were censored there's got to be a reason why. Decision time, do you venture on or get the fuck out? If you choose to continue, you are given fair warning: 'Christ, where do we even begin?'.
'No One Should Have to Read This' was also the name of the debut EP, released in 2018 in the lead up to the full album. In this track the character exclaims "Yikes!" as he spills what he has done. The vocal range of Bonitz is astounding here as he yells, sings, growls and raps all in the one song, taking on the role, acting it out. The musical style, described as "nu-core", is a blend of hardcore and hip hop or rap-based metal reminiscent of Korn or Slipknot with modern leanings in the vein of, well, ehm, Vein.
'Kungan' is a Buddhist phrase which means that understanding will come to you by indirect means. It's also the name of the main character and the first track on the EP. Available from last year on guitar play through video streams, the lyrics explain a bit about who Kungan is: a man-boy who hopes his mother (Tallah) doesn't find his journal, a cutter, someone struggling to block out destructive voices; a man on the precipice, looking for a way to do what he feels must be done. Musically 'Kungan' begins with industrial sounds and chaotic drumming from Portnoy, before it melds into rap metal and Kungan's presentation descends to anguished wails and animalistic growls as he admits, no I'm not OK. This is the turning point as Kungan slides dangerously towards letting go of his social restraints, accepting who he is and pressing forward with brutal 'Overconfidence'. The growl is back. This is who I am. Overconfidence is a phenomenal metalcore track. Arrogant and full of itself, it's got to be heard live. It's Schneider's time to shine as face-melting metal riffs take over.
'Placenta' now takes centre stage; resplendent, full on hardcore. When you hear the rap switchover you begin to think you've got this band down until you are unmercifully smashed in the face with thrash level intensity and a maniacal screeching guitar solo. Kungan begins to nurse the idea, thanks to voices from his rat eared toy bunny, that he might have to get rid of his mother and writes his plan down. He is simultaneously moving mentally away from her hold and terrified that she will find out: "how far do I go before you whiff up my scent, bitch?".
Headlong into 'L.E.D', possibly the standout on the album. Kungan battles with himself, getting angrier and angrier at his mother. As he asks himself who the fuck she thinks she is, he begins to warm to the idea that he might just show her that he's capable of far more than she ever imagined. Yet 'Silo' sounds different again. It's a respite, more melodic as it delivers its sad tale. How has it come to this? The switch up is perfectly placed after half an album of full on intensity and displays the sonic diversity that Tallah are capable of.
'We, The Sad' is as sing along as you'll get from a band this heavy, an absolute nu-core must. She is the source of all his pain but he needs her. What a sad pathetic way to be, slave to someone that you hate so much. Just Listen. From 3.40 'Too Quick to Grieve' takes control of your head and rocks it back and forth until your brain is mush, 'Ima' kill that bitch' and that 's exactly what he does. 'Cottonmouth' is thrashed out chaos as Kungan reflects on what he's done. He's clearly gone and the 'Murder Seed' has been planted because, well fuck everyone else. The lyrics to this last are genius, gore filled hatred, spat out gibberish that perfectly illustrates unadulterated rage and letting go of, or perhaps fully accepting who you were.
Near to the end of the story 'The Borderline Of Pain' is rhythmic industrial sounding bass. Almost like the heartbeat of this newly birthed monster. The outro 'Red Light' is haunting. Having done the deed Kungan realizes his mother still haunts his thoughts, and his vision of the future is tinged with red…
Emerging from the other side of this album, I'm left feeling a strange mixture of elated, shaken and bewildered. It sounds like a million other bands fractured into pieces and randomly reassembled, with some fantastically warped modern sounding additions. If you listen to lyrics, you'll get right into 'Matriphagy'. If you don't there's a possibility that the jarring high hats and screeching guitars may become annoying.
Bonitz is clearly mad as a bag of badgers. He was arrested at Tallah's first gig and found much later at some random police station. I'd ask you to remember though that his fellow band members were the ones that sought him out. Arguably this is a match made in hell, but one that was wanted not foisted upon. Bonitz is a free spirit who never stays still, always morphing into something else but he remains throughout an extremely talented creative writer and vocalist. Tallah have formed an alliance and chosen their path. Bunch of morbid motherfuckers. They are dark, foreboding, energetic and fresh. Clever bastards too I'd say. A lot of thought has gone into 'Matriphagy', deep dark musings. The story that emerges is disturbing as is the way it is told is through violent, unpredictable live shows. What's not to like? Tallah will only get better. Go get that blood-spattered clear vinyl monstrosity. You know you want to.
'Matriphagy' is released on Friday (2 October). You can get your copy HERE.
Tallah recently performed 'Matriphagy' in its entirety at the infamous 'Prison Of The Dead', Willow Glen State Penitentiary in Pennsylvania. The performance will be broadcast on the Knotfest website on Thursday (1 October).
All content © Über Rock. Not to be reproduced in part or in whole without the express written permission of Über Rock.