By DJ Monk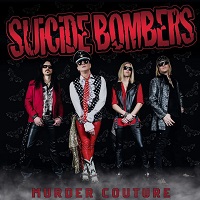 Ladeez and Gentlegerms – they are BACK! They are glitterati's glitterati! They are the high fashion elite's elite! They are the influencers' influencers! They are designers' designers of dreams! They are The Sleaze Fuhrer, The Sex Toy, The Thunder Mechanic and The Beat Commando. They are THE sharpest dressed band the world has EVER seen… and this time they are immaculately draped in – 'Murder Couture'.
Norwegian sleazebags Suicide Bombers had the misfortune of releasing their last album, 'Suicide Idols', in the wake of the Manchester Arena atrocity, which understandably resulted in it falling through the cracks of many media, not least here in the Über Kingdom (although we did revisit it after what we felt was an appropriate period of time). Now, two years further down the line, they have returned with perhaps their most eagerly anticipated release to date, and one which they are billing as their sexiest album to date…
And it certainly lives up to its promise, as it oozes lasciviousness, lechery and sexuality from every groove in a way which would have Steel Panther licking their sweat glands in the hope that some of its lewd mischievousness might permeate into their inanimate, hairspray-overloaded (lack of) imaginations.  This is the real deal, the spunk-stained mirror into which others will stare with envy before removing their socks from down the front of their threadbare spandex and crawling back into the four-poster bed in their Beverly Hills mansion and jerking themselves off to infectious anthems such as 'Murder Couture', 'So Bad', 'Love Disasters', 'Night That Never Ends'… the track list goes on as this is all killa no filla, dudes and dudettes.
The guitars tumble like a prostitute wrapped in silk sheets, the vocals growl and snarl like a Vegas magician's tiger spotting the cage has been left unlocked, and drip with the venom of a coiled viper with a helpless mouse cowering before it, while the percussion snaps with the crackle of a ringmaster's whip across the back of a recalcitrant clown. Each and every one of these songs is a sleaze-tastic gem that exudes sex and desire from every pore, with choruses catchier than a dose of clap in a whorehouse and vibes dirtier than a Welsh railway line.
If Chris Doll and his cohorts had been born a couple of decades earlier and a couple of thousand miles further west, it would have them strutting down the Strip in their fake leather jeans and battered cowboy boots en route to the Whiskey instead of the likes of Messrs Lawless, Rose and Sixx. As it is, they are in the here and now, and will have to settle for sweaty back street clubs of a different climate… but, hey, that's why we're rock 'n' roll junkies, right? Now, Michael, would you mind wiping that lipstick stain off the champagne glass on the way out – thanks, dahling!
'Murder Couture' is out now. You can get your copy HERE.
www.facebook.com/SUiCiDEBOMBERSMUSiC
All content © Über Rock. Not to be reproduced in part or in whole without the express written permission of Über Rock.