By Jonny Bakes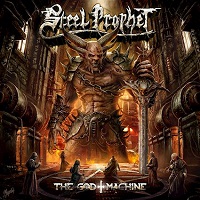 Their name makes them instantly recognisable as the kind of band that will bombard you with face-melting riffs and tremendous vocals, and the latest instalment from Steel Prophet is absolutely no exception to this rule.  After a five-year quiet spell, it's safe to say that these guys have absolutely exploded back with this latest instalment to the already lengthy Steel Prophet saga.
'The God Machine' is the long awaited follow up to 2014's 'Omniscient' from these Los Angeles based power metallers and is the first to feature vocalist R.D Liapakis (Mystic Prophecy, Devil's Train). Not only does he bring his powerhouse vocals to the party, he has also been responsible for the songwriting and production of the album alongside guitarist Steve Kachinsky.
Straight out of the gate, R.D makes his presence known with a Rob Halford-esque scream in the opening moments of the title track, 'The God Machine'. This is one of the two currently available tracks from this album and it's clear to see why. This track is absolutely relentless and really showcases that impressive vocal range. I guarantee you'll soon find yourself wailing along to the chorus and find yourself hungry for more. 'The God Machine' really nails its job as title track and sets the tone, making it clear that this album is going to be one hell of a wild ride.
Next up is the other currently available track. After that opener, you could be forgiven for thinking that Steel Prophet might not be able to maintain this momentum, but you would be wrong. 'Crucify' does not disappoint and continues the theme of being fast and heavy with seriously catchy choruses. Still this carries on throughout the powerful 'Thrashed Relentlessly' which is a shining example of the kind of riffs that have been coming out of the Californian heavy metal scene for decades and is not dissimilar to some of the early riffs from Avenged Sevenfold.
The catchiness continues with 'Dark Mask (Between Love and Hate)' which has been stuck in my head ever since my first playthrough.  It may be the shortest song on the album, but it's by no means the least powerful.  Moving on, Echoes of Black Sabbath can be heard in the riff that opens 'Damnation Calling' which provides a brief drop in pace before launching into the fast-paced belter that is 'Soulhunter'.
Then when you think you've got a handle on what to expect from this album, the guys throw in a real surprise in the form of the classically heavy metal power ballad 'Buried and Broken' followed up by 'Lucifer – The Devil in Side' with a riff that sounds more like it has come out of the Deep South than the West Coast.
'Fight, Kill' sounds like it could quite easily be the final track, and had it ended there I would have been satisfied but wait, there's more… the groove-laden riffs of 'Life = Love = God Machine' which will transport you back to the 80s with riffs that are almost reminiscent of Motley Crüe. If this song doesn't kick off a room full of windmilling in a rock club, then I'm not sure what will!
Overall 'The God Machine' is a well-polished album thanks, in part, to Henrik Udd who has produced albums for the likes of power metal titans Hammerfall and Powerwolf.  For fans of power metal, but also easily accessible to anyone who has an appreciation for classic heavy metal particularly NWOBHM, this album would make a solid addition to the playlist. And I can definitely see this being an album that you'd play loud and proud outdoors on a sunny day, or on a road trip with the windows down.
'The God Machine' is released on Friday (26 April). You can get your copy HERE.
www.facebook.com/SteelProphet/
All content © Über Rock. Not to be reproduced in part or in whole without the express written permission of Über Rock.