By DJ Astrocreep
Squeeze's 'Greatest Hits' was the first CD my dad bought himself, when he got his first cd player, while I picked a triple Madness CD box set, with rarities on – yeah, I've always been that person. I remember my dad putting the Squeeze CD on and really liking it, at the point where I was starting to develop my own music taste at the start of the' 90s. I've even seen Glenn Tilbrook solo before, supporting someone on a show where I worked the sound desk, but never Squeeze as a full band, so taking it in in a venue designed for clarity of sound like the Philharmonic Hall should be quite the experience. It's been a while since I've been so 'Tempted' to give in to 'Temptation', so I surrendered to it and headed on down.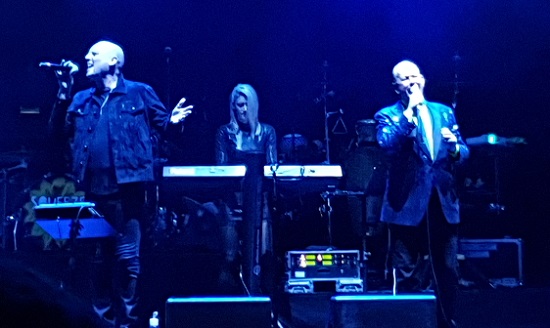 Our only support for the evening are Heaven 17, another band that I have more than a soft spot for, and well beyond their big single 'Temptation', and another band I've taken the time to catch live before. They are always great fun live, as they are here too, even finding the time to cover Human League co-founder Martyn Ware's cover of 'You've Lost That Loving Feeling', which goes down a treat. Although it's an all seated auditorium, very few are actually sat down – I end up chatting to the people in both rows behind me, as my height means I block the sight of both – and they're friendly, so it's not an issue for me to join the standees, as Heaven 17 work their way through 'Play To Win', 'Penthouse and Pavements'  and finally big single 'Temptation' to close a very enjoyable set.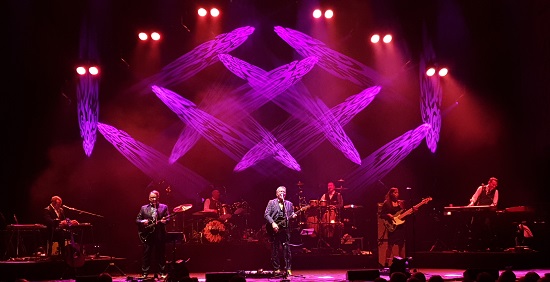 Squeeze are playing a mix of big hits and rarities and get straight into their almost two-hour set with a medley of 'Footprints', 'Big Beng' and 'Hourglass' with each played in full but merged into each other at a breakneck pace. We get another couple of the bigger tracks before we start on the deeper cuts, with the atmosphere going from one of people stood dancing in and on their seats, shouting along like I am, in to one where everyone sits down and pays full attention,  which is rather pleasant to see. Even on some of the slower tracks, such as 'The Day I Get Home', the party atmosphere drops slightly but the audience remain rapt at the sheer quality and ability of each of the members of the band, be it the remaining founders or those that have since joined.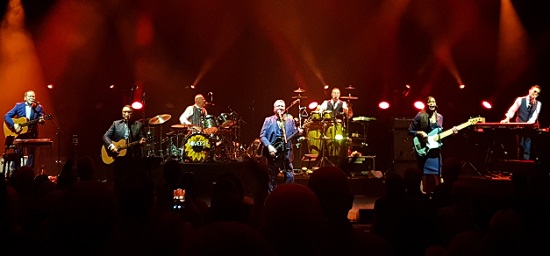 At this point, I'll take the time to mention in particular the bassist, who does an exemplary job and makes it look so easy. While the rest of the guys who have joined Glenn and Chris are all also more than capable, I find myself drawn to watching her and the ridiculous manner that she doesn't seem to even be paying too much attention at times without missing a note, which obviously takes a sublime talent. We get acoustic versions of a couple of tracks, including 'Slap And Tickle' before a couple of songs later coming back to big hits such as 'Tempted', 'Cool For Cats' and 'Annie Get Your Gun', which closes the main set.
The acoustics of the hall suit Squeeze and their music and talents to the ground, as we get a two song encore of 'Take Me I'm Yours' and 'Black Coffee In Bed', the latter of which contains a solo section from each member  before Glenn introduces everyone but himself, leaving that honour to Chris, and they finish an exhilarating, highly enjoyable set.
PHOTO CREDIT: Photos by the author.

All content © Über Rock. Not to be reproduced in part or in whole without the express written permission of Über Rock.