By Monk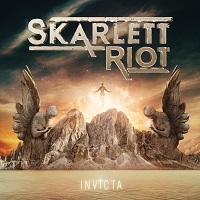 A lot has happened since Skarlett Riot regenerated (sic) themselves and put the industrial town of Scunthorpe – perhaps better known for bringing us sporting legends such as Kevin Keegan and Sir Ian Botham – very firmly on the musical map, with their declarative and highly impressive second album. With the band's trajectory seemingly very much in the upward curve, another form of growth stopped them (like so many others) dead in their tracks, as the Covid pandemic sent the world to hell in a brakeless handcart… But, like so many others, the quartet didn't let the small matter of a global pan(dem)ic get in their way, but instead put their grist to the mill and set about recording this, their third album…
And it is an album which should see them defying gravity (sic) and resuming that upward trajectory extremely quickly, especially when live shows are allowed to get fully up and running again, as it is a strident and confident declaration of intent, assured in every department, from the cohesiveness and clarity of the song writing to the precision of the individual and collective performances. The result is a beautifully crafted album, seamless in every department.
Anyone expecting Skarlett and the boys to have merely picked up where they left off will, as the three advance singles have already clearly indicated, be seriously disappointed, and surprised, and both in a good way. Largely eschewing the gothic-tinged metalcore vibe of 'Regenerate', this is the sound of a band breaking free of generic confines to explore a wider potential. Skarlett in particular has not been afraid to experiment, exploiting her impressive range to its full extent, veering from almost Paramore-ish power pop to more Jinjer-meets-Sumo Cyco-style edginess with an effective alactrity and ease that adds an extra dimension to the band's sound, without at the same time sacrificing any sense of consistency or honesty…
'Invicta' is a bold album. One showcasing a band not content to sit still, and equally stand their ground, in terms of self-belief, and not be afraid to move forward and push their boundaries to their limit. Long-term fans will find much to recognize, but just as much to leave them scratching their heads, while new fans will find themselves wondering why they haven't been priming the Molotov cocktails and signing up for this particular riot much sooner…
'Invicta' is released on 7 May. You can get your copy HERE.
www.facebook.com/skarlettriotuk
All content © Über Rock. Not to be reproduced in part or in whole without the express written permission of Über Rock.