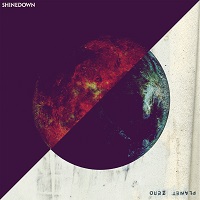 Another chance to see Shinedown at Download 2022 was an opportunity to see if any new music from the forthcoming album was going to be played. Kicking off with 'The Saints Of Violence And Innuendo', the only other track was the title track, 'Planet Zero'. So this is my chance to once again review the new release by the Florida foursome of Smith, Kerch, Myers and Bass.
The release of the title track was accompanied by the video and this has given an inkling of what to expect.  The further release of 'Daylight' added to the anticipation for the chance to review the album.
The first thing to notice is there are 20 tracks… until you look closer. Seven are 30-second plus "fillers" of computer generated "rules and regulations", so there are actually 13 tracks, all of three to four minutes in length.
Recorded in the new studio Big Animal of Bass in South Carolina this is another album with searing social commentary.  Never ones to shy away from the difficult areas of society such as mental health ('Monsters'), drug addiction ('Cut The Cord') and the scourge of modern day society ('Bully' among many others), this album is another attack on the events of the past two-plus years and the amount of control that is being ceded to powerful corporations and politicians.  This is nowhere more obvious than the aforementioned 'Saints Of Violence…', with another banging bass/drum/guitar riffage throughout and the lyrical hook and "so tell me truth , are you really surprised, you live in a world where empathy goes to die". Harsh!
Taking a swipe at big tech the introduction of Cyrene (a computerised female control voice akin to Siri and Alexa) to link the tracks together with "controlling statements" could be aimed at them or even governments.
Opening up with the superspeeded 'No Sleep Tonight' appears to be a call to arms, before the title track opens up with another swipe at cancel culture and disposable society to raise awareness of the risks to all by the few. Searing social commentary.
Another interjection by Cyrene as a control body in this dystopian society vision.  After all the intensity of the first two tracks, 'Dysfunctional You' slows it down bit but it provide encouragement to be different rather than trying to hide amongst the norm. It's one of those tracks that may not get played live that often but could become a firm favourite with fans.
However, 'Dead Don't Die' is likely to become a set regular as it has that huge anthemic feel to it, lyrically easy to follow through the chorus and the instrumentation is huge! Banging bass and drums with a searing guitar riff at the breakdown.
Cyrene interjects on 'Standardised Experiences', before 'America Burning' kicks in. One of the best digs at modern American society is the line "you might be woke but you're not awake!" It has an eerie horror movie-esque lilting guitar riff carrying it throughout. Its another huge track.
Cyrene again lists the "rules to be obeyed" as you are being… programmed.
Taking it down to a balladic level 'A Symptom Of Being Human' is a reflective attempt again to encourage those who feel they don't belong to just be themselves and exist in society as themselves. I really like this track a lot but then this is the style of Shinedowns music that connects with me as a fan similar to the style of Amaryllis and Leave a Whisper (two of my favourite albums).
'Hope' continues the theme and slower pace before it reaches the crescendo  and the final chorus. Another Cyrene control statement takes this forward by trying to control behaviour to provide "a more utopian future "…if you obey the rules!
A bigger dig at social media is the point of 'Clueless And Dramatic'. A bass drum thumper with a  machine gun feel to it that I'm pretty sure is going to be one of many on the setlist for the forthcoming tour. 'Sure Is Fun' is a bit of a grower, difficult to make out whether you like it at first listen it seems like there is a serious message (the end of the world) but it seems a great deal of "fun" to be in this place
'Daylight' (the latest single) opens with a piano and builds to the choral crescendo throughout the second verse into the chorus and just grows and swells from there into the "have faith" section. I can see why this is the second single from the album. Its another Shinedown cracker.
Cyrene continues to interject in this is a warning before the pace and volume picks right back up to the opening of 'The Saints of Violence and Innuendo' – a classic Shinedown track written along the lines of 'Cut The Cord' and 'Attention! Attention!'. This is going to be another regular on the setlist.
This keeps going into the 'Army Of The Underappreciated', a more punky track that could well lead to the formation of a moshpit in any live set. This is again driven by the thumping drumming of Kirch and the booming Bass on four strings. 'What You Wanted' is the final track and I can see it ending one or two sets if it gets popular – even as a playout tune rather than the band doing it.
Altogether this is another superb collection of songs that can stand alone on any Shinedown set but as a conceptual album of social criticism it stands alongside others that have made that leap when music and art make the effort to reflect what is going on in society in general, something Shinedown have never been afraid of doing and I am sure they will continue to do very successfully.  I am really looking forward to the ÜK tour later this year. Download and this have made me look forward to it even more, and I love the fact that the Welsh audiences will get to see it first (again!), long may it continue!
'Planet Zero is released on Friday (1 July). You can get your copy HERE.
Shinedown return to ÜK for a series of headline dates in November and December: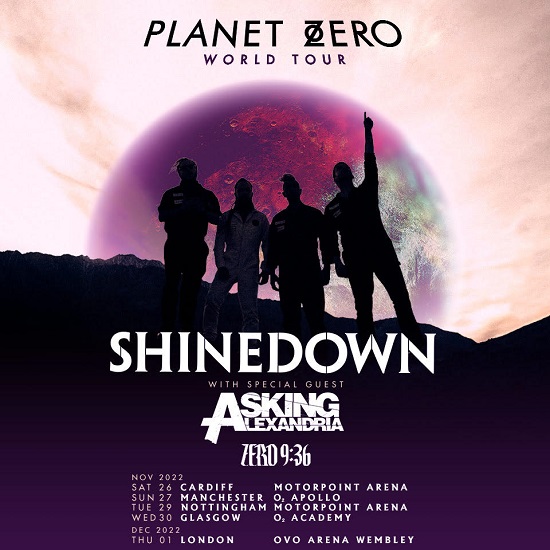 All content © Über Rock. Not to be reproduced in part or in whole without the express written permission of Über Rock.