By Jonny Bakes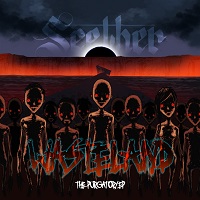 How many of you, when you hear the name Seether, think to yourselves: "Ah yeah, they did that song with Amy Lee that one time"? I must admit that was all that came to mind for me. I think that in my head I'd penned them down as one-hit wonders and left it at that. So, naturally, I was surprised to see that Seether have just dropped, this very day, a new EP, one that closely follows their most recent album 'Si Vis Pacem, Para Bellum' which was their eighth full-length album. So it looks like I could be about to completely smash through my preconceptions as I take a dive into 'Purgatory' to see what I've been missing all these years.
I'm a little bit dubious about this being a post-album EP as often they end up being a small collection of things that just didn't make the cut on the album. However, I've been assured that this is not the case in this instance so I'm just going to dive straight into the opening track – 'Wasteland'. After a gentle introduction, it kicks into a short heavy riff before dropping back down to reveal a song that is heavy and melancholic; quite frankly this sounds exactly like the kind of thing I was listening to back when 'Broken (feat. Amy Lee)' was on about every metal compilation going. 'Wasteland' is a fine example of the collision between grunge and nu-metal that really symbolises my teenage years, it's got the perfect mix of hard-hitting drums, melodic riffs and a display of raw passion and emotion. I suddenly felt like an excited kid heading down to HMV again, and this is only the first track! And it's such a solid track that we even get to hear it at the end of the EP with a bonus acoustic rendition just to top things off.
After raving about 'Wasteland', I'll just pick one more track out of this tasty little morsel. And the one I'm going with has to be 'Feast or Famine' which leans into Seether's grunge side. It has this rolling bass line in the introduction that continues to rumble through the track in the background once the guitars really kick in with some gusto. There's a bit of an Alice in Chains vibe to this track as well, with perhaps a very slight hint of some 'Dark Horse'-era Nickelback but just enough to draw a parallel, not enough to say that this sounds like Nickelback – it doesn't.
Well, the main thing I'm going to take away from this is that I need to eat my own words about Seether and crack on and get listening because I've got a whole back catalogue to listen through! 'Purgatory' is a great EP to remind yourself of just how vibrant and popular that early 2000s metal scene was, and for those of a certain age, this is something that could quite easily bring back floods of nostalgia. It appears to me that Seether found their niche and they're going to stick with it and, hell, it works for them so why not!? If you were in any way in touch with the nu-metal scene "back in the day" then you could do far worse than take a short trip into 'Purgatory' that's for sure.
'Wasteland – The Purgatory EP' is released today (Friday 30 July). You can get your copy HERE.
All content © Über Rock. Not to be reproduced in part or in whole without the express written permission of Über Rock.