By Dawn Boyd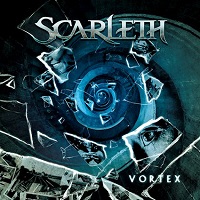 It's always quite easy for me to pigeonhole myself in the type of music that draws me in. So, it was no surprise I was drawn to the new release from Ukrainian metal band, Scarleth. Never let it be said that I am a stranger to diversity but sometimes it's nice to kick into your comfort zone
In my opinion, 'Vortex' is the most impressive of their catalogue to date. It's not to say that the others aren't good, but they did fall into easy traps of over-extending their songs and exceedingly long intros; but for this one they have cut that down. It's like they are trying to appeal more to the masses but in the same way they haven't sacrificed quality. In fact, in some cases, I find some songs could easily be described as too busy. Trying to fit in too much into a short number of minutes. Don't get me wrong, there are some in there that are overwhelming in a good way, with their diversity in different sounds; It just doesn't need to be on all songs.
The range and diversity is definitely not a bad thing and I am definitely not complaining at the use of synths to give a retro feel. It does seem to me, like they have tried something new for themselves, they have tried to curb and reign themselves in. It has paid off well, and it does show a good sign of things to come.
I absolutely love the fact that the very talented lead singer doesn't hide her natural lilt from her singing, using her heritage and the fact that they have songs in their native tongue does add extra character to the music. It's emotive and strong and I would like to see more strength in her voice because in some cases she does seem over-powered by the music she is vocalising too.
Ekaterina has a lot to live up to given their experience. The band themselves have pitted themselves alongside some fairly formidable names in the symphonic metal scene. She hasn't tried to replicate or copy other styles and does have an excellent uniqueness that lends itself to the music. I would just like to see her push her boundaries further and go for broke, because for me, she does sound like she is holding a little.
To finalise, listening and really absorbing the music, the result of 'Vortex' is overwhelmingly positive. I find it excellent to have in the background, a great driving track but most of all a successful continuation for Scarleth. I curse my lack of passport to go and see them perform and hope to see them perform live at some point to truly get into the music because it is easily done with this album.
'Vortex' is out now. You can get your copy HERE.
All content © Über Rock. Not to be reproduced in part or in whole without the express written permission of Über Rock.