By Lizzi Maxwell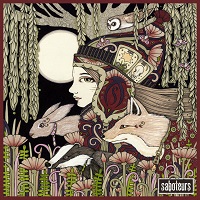 Growing up in an East Midlands market town and struggling with the mundanities of life, Saboteurs are no stranger to bottling things up till they are ready to explode; but thankfully they have found a positive outlet for these emotions by pouring them into their debut full length album. 
The band are a big mixing pot of genres, mainly a fusion of alt-rock, punk and acoustic.  The contrasting styles come from the differences in taste of songwriters Ben Ellis (vocals/guitars) and Rick Whitehead (guitars/vocals): "We just can't do trends. We end up chucking in elements from all manner of genres and smashing them together".  Joining Ben and Rick, completing the band's line-up, is Pete Botterill (Drums), Geoff Standeven (Bass) and Kirsty Marlog (Vocals).
When the band's lead guitarist had to have shoulder surgery it led to frustrations within the band and a violent split with the rhythm section later occurred.  With their creative outlet closed off the bands songwriters, Ben and Rick went into a dark place but they soon seen the light again through writing and the experience later became the substance for new material; which has seen the "self-confessed introverts" attract an ever-growing fan base, gaining recognition by BBC Introducing, Richer Sound's Artist Of The Week and were finalists in Radio Wigwam's Rock Act Of The Year off the back of the release of their debut self-titled EP in February 2018.
They say it's the quiet ones you need to watch out for, but there is nothing quiet or introverted about 'Dance With The Hunted'.  The album was recorded at Phoenix Sound Studios in Mansfield and produced, mixed and mastered by Hamish Dickinson.  The opening track 'Splintered', was written soon after the dark period the band went through and it really comes through in the lyrics: "The shame will never end but I'm coping on my own.  The ones I left behind – they just fade out". Pretty savage but honest lyrics!
The band sound like they have great chemistry but to me it's most apparent in the track 'Over And Out': "This suffering will bind us to the end"; the song writing throughout the album is my favourite element.  People will resonate with the words in today's dark world, where we need to make our own sunshine just to get through some days and listening to music like this is certainly going help, well if you are anything like me who finds music to be the best therapy of all you will.
'Marooned' has that thumping dystopian beat to it, and my personal favourite is 'I Think My Face Hates Me', it has a soaring melodic chorus and can see it being received well at live shows.  'Dance With The Hunted' is a brooding track that draws you in and there are some surprises too, especially notable in the acoustic led break down and nu-metal screaming vibes on 'Traces' before everything is wrapped up nicely with the closer 'Willows'.
All in all, I really liked this debut LP from the band, it's produced really well.  When I looked up the band's social media pages, they describe their songs being about badgers, constellations and other things that creep into our lives and imagination at night, so naturally I couldn't have been more intrigued, what could there be not to like about a description like that!  The writing is very well done and the guitar driven riffs teamed with Bens soaring melodic vocals was all held together beautifully with the relentless rhythm section that sounds tight as!  This album deserves a listen!
A special mention is also deserved for Anita Inverarity at Inverarity Gallery who created the cool artwork for the album cover and was also the creator of their self-titled debut EP cover with a piece called 'Badger Moon'.  Every time I look at it, I see something different.  It matches well with the deep dark sound of the album, which I really enjoyed.
Saboteurs state their influences come in the shape of Biffy Clyro, Neil Young, Thrice and New Model Army so fans of these will hear something that they like here, and with their new rhythm section of drummer Pete Botterill and bass player Geoff Standeven,  they will be heading out to play a few shows this April and May, supporting their good friend Stevie Jones and his band The Wildfires.  For more information keep an eye on the band's social pages.
'Dance With The Hunted' is released on 4 May. You can get your copy HERE.
All content © Über Rock. Not to be reproduced in part or in whole without the express written permission of Über Rock.