By DJ Monk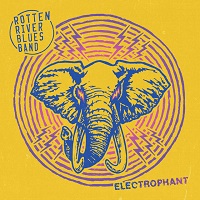 The Rotten River Blues Band hail from the delta… the Mätäoja delta of southern Finland, that is. But sound could be as firmly rooted in the mudflats of the Mississippi as it is the swamps of the river from which they take their name, as the quartet mix the heavy psychedelia of New Orleans with the dense suvern blooze of the Louisiana bayou as easily as they do with the sleazier side of the rock 'n' roll spectrum for which their homeland is better known.
'Electrophant' is an impressive collection, and one which marks a clear progession from their debut offering, last year's 'Long Necks And Delta Waves', which, while it showed promise, was very raw around the edges and showed a band still very much in the throes of developing their own side. 'Electrophant', however, is much more coherent and cohesive and shows a clarity of vision which is clear throughout its eight tracks. Whereas 'Long Necks…' veered off in all sorts of directions, and tried to be too many things to too many different folks, 'Electrophant' is purposeful and shows a band who are now much more focussed on not only their own identity but the path they want to follow. Yes, there are dalliances along the way, such as the dark contrast of the closing pair of songs, the beautiful blues of 'No Champagne, No Ice' counterpointing brilliantly with the exuberance of 'We're Gonna Rock', which closes the album out if true bopalong style while at the same time bringing its overall sound full circle; but by and large the album is a complete work in its own right, and one which flows like the river which inspired both it and, more especially, its creators.
What also comes across is the genuine passion that the four musicians feel for their craft, and the respect they have for the heritage which they are helping to not only protect but to nurture. Pekka Muurinen has a languid vocal style that echoes the great bluesmen, from the likes of John Lee Hooker through to the now departed Dr John (whose shadow, it has to be said, looms large over the more NOLA-esque moments). So far, 2019 has proven to be another great year for the blues, with the plenty of more to come before the year is out (Danny Bryant's new album is simply off the radar), and while the likes of the Rotten River Blues Band are among those acting as the genre's custodians then it will continue to remain in very rude health indeed.
'Electrophant' is out now. You can find ordering details on the band's Facebook page.
www.facebook.com/rottenriverbluesband/
All content © Über Rock. Not to be reproduced in part or in whole without the express written permission of Über Rock.