By DJ Monk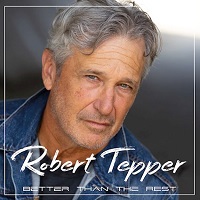 DQ and I first came across Robert Tepper, in the flesh at least, back at the first iteration of the now sadly defunct Rockingham festival, when he produced one of the standout performances of the weekend. Of course, his pedigree needs no introduction, especially to AOR fans: one of his songs, 'No Easy Way Out', was the theme to 'Rocky IV', while he renewed his collaboration with Stallone for the later 'Cobra' soundtrack. One of his songs also became a minor hit for the r'n'b has been Usher. Now, the veteran New Jersey songsmith is back in solo action with this latest offering, a collaboration with the Spanish-born guitarist Pablo Padilla, with whom he has worked for several years.
'Better Than The Rest' may be seen to be an ambitious, and possibly pretentious, title, but when, after nearly 50 years in the business, you can still deliver a collection of songs of the extremely high quality demonstrated here, and with a voice that is still capable of curling the hairs on the back of your neck, then it is one which can be fully justified.
As one would expect, each of the 11 songs is beautifully crafted, all following the classic path of verse, verse, catchy chorus, interlude… and that is why they all work. OK, there's nothing hugely different to anything which the AOR genre has been offering for the past five decades or so – but, why would you even think about messing with a classic sound and combination? Each and every one of these songs would sit proudly on any AOR album you care to name, which in itself is a testimony to their creator's own craftmanship and pedigree.
Of course, there are some real standout moments: 'Testimony' possesses a gruff edge to its funky groove, while the likes of the title track, 'My Yesterday', 'Show Me Where The Light Is Going' and the awesome 'I Don't Want To Make You Love Me' recall those heady summer afternoons of the late Eighties when none of us had a care in the world – except possibly how long it would be before we ran out of beer!
Robert Tepper may not be 'Better Than The Rest', but he certainly is better than most. He is one of those classic songwriters who can still craft a great tune and deliver it with equal aplomb, and this album is worthy testament to that ability. Now, can you pass me that tin over there?  Thanks…
'Better Than The Rest' is released on 27 September.
www.facebook.com/RobertTepperMusic
All content © Über Rock. Not to be reproduced in part or in whole without the express written permission of Über Rock.