By DJ Monk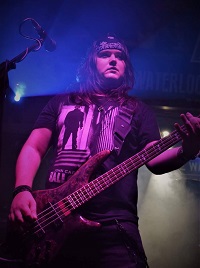 Like everyone else in the ÜK rock 'n' roll community, we have been devastated to learn of the untimely death of Mikey Lawless, bassist with Falling Red, after a short but very brave battle with cancer.
In a statement on their official Facebook site, his bandmates said:
"Peacefully at 16.45 today Mikey lost his battle with cancer, after a nine month fight and some ups and down he passed away in Edinburgh Royal Infirmary with his mum Linda, brother Brian and sister Debbie by his side.
"He was always wanting to party and enjoyed nothing more than making that bass rumble and has done everything he could to make sure that never stopped throughout, he still stepped out on stage and rocked out and was always there to meet and greet people.
"Eleven years ago we first met Mikey and six years ago he became part of Falling Red, he jumped at the chance to be on the road with us and always stated if he couldn't have the day off work, he would be there anyway.
"We have lasting memories that will stay with us forever."
Everyone at Über Rock sends their deepest condolences and best wishes to Mikey's family, band mates and many, many friends in rock 'n' roll at this difficult time.