By Jonny Bakes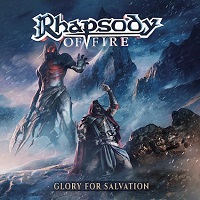 Rhapsody of Fire is almost infamous in power metal lore, but this isn't solely due to the success of the music. Instead, you'll find many flavours and renditions of the Rhapsody name throughout the decades where members have broken away but stayed determined to continue the Rhapsody journey in some form. You'll find references to Rhapsody, Luca Turilli's Rhapsody and Turilli/Leone Rhapsody as you dig through the saga, but today we have the pleasure of listening to the latest release from the most recent incarnation of Rhapsody of Fire to bring forth some good hearty power metal cheese.
Despite parting ways with longstanding vocalist, Fabio Leone, and guitarist/co-founder, Luca Turilli, Rhapsody of Fire still experienced significant success with their 2019 album 'The Eighth Mountain'. This album managed to win new fans with its symphonic/power sound and made it seem that perhaps Rhapsody was more than just the sum of its members and perhaps something more intangible altogether. Now, there are some who might be thinking that 'The Eighth Mountain' was a bit of a fluke or perhaps only popular because of the Rhapsody branding. To those, we have 'Glory of Salvation' to provide an answer to these questions and determine exactly which trajectory Alex Staropoli and Rhapsody of Fire have embarked on.
First impressions of 'Glory for Salvation' are that this is crafted to provide an experience of epic proportions. The symphonic and power metal elements are combined to give something that really lives up to the Rhapsody brand and continues to invoke clear visions of fantasy scenes. It's chock full of backing choirs, epic synths, wailing vocals and serious guitar shredding that manage to both catch the attention, and be easy to listen to! The album weaves through tales of epic fantasy that are interspersed with gentle melodies and spoken word sections to give a brief respite from the, often folk tinged, energetic music.
For a change, my standout tracks are nestled firmly in the middle of the album like diamonds in the rough. The first of these stood out because it brought to mind one of my favourite tracks from the earlier Rhapsody days which was the delightful 'Village of Dwarves' and it was shortly into fifth track, 'Terial the Hawk', where this memory was triggered. The jovial and folky melody with the female choral vocals brought me right back to that moment where I first came across Rhapsody, so it was at this point that I was convinced that 'Glory for Salvation' is another successful installment for this new breed of Rhapsody of Fire. Immediately following this, I was hooked again on 'Maid of the Secret Sand' from the instant that the galloping guitar brought forth this bouncing track.
I think it's pretty safe to say that Rhapsody fans, and fans of the wider genre, will not be disappointed by 'Glory for Salvation'. It's something like a cross between a metal album and a broadway musical at times with plenty of pomp and fanfare to draw in fans from across the genres, although there are bound to be those hardier fans who will dismiss this as being "too cheesy". But those would be wrong! Most people will know that this kind of music is totally my scene, and so it's no real surprise that I enjoyed it! As for whether 'Glory for Salvation' represents an upward trajectory for this flavour of Rhapsody of Fire? I would say yes, yes it does.
'Glory For Salvation' is released on 26 November. You can get your copy HERE.
www.facebook.com/rhapsodyoffire
All content © Über Rock. Not to be reproduced in part or in whole without the express written permission of Über Rock.