By Tim Bolitho-Jones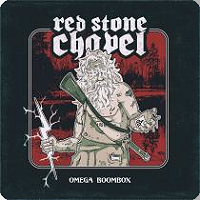 Regular visitors to our humble website may have already seen our brilliantly written review of the recent Lowburn album, which was described as "party doom" and much loved by the talented, handsome writer involved. Well it's proving to be a bumper Autumn for upbeat stoner rock as no sooner had we switched that off than Red Stone Chapel turned up with their 'Omega Boombox' to keep the good times rolling. There was a minor case of déjà vu, especially as they're on the same record label, but if you enjoy good time rock 'n' roll you'll want to check these lads out as well.
Hailing from Germany, this six-piece sound like they just crawled out of a Louisiana swamp clutching bottles of moonshine and possessing a single-minded focus to kick out the jams. They've got a rather intimidating number of bass-heavy blues riffs tucked up their flannel sleeves and for the most part, this record is a belly-shaking delight. 'Squid Limbo,' the opening track is an up tempo, gravel throated rocker, but it's on second track 'Dead Man's Chime' where they really knock it out the park. This one packs some mighty fine, I say mighty fine axe work and one of those choruses which instantly lodges in the brain and refuses to let go.
It's followed up by 'Thieves In The Attic,' a dirty slice of Clutchian groove that could put a smile on even the most cynical face. 'Panta Rhei' similarly recalls Neil Fallon's group and it wouldn't be at all surprising if their live shows turn into extended freewheeling jam sessions, they've got that vibe about them. This is helped in no small part by the triple guitar line-up, allowing them to stick intricate melodies in just about anywhere they fancy. It's laidback and full of swagger, but you also can't help thinking that Red Stone Chapel are smarter than you.
The second half of the record is no slouch either. 'Praise The Fool' is a low-slung jive bastard, while 'The Paper King' is basically a never-ending barrage of kick-ass guitar strangulation. The title track and the closing 'Herc (That Motherfucker)' both keep the quality high and even if the songs do start to blur together towards the end, it's still hard not to have fun with them.
If there ever comes a day when Orange Goblin hang up their guitars, this Teutonic sextet will be their ideal successors. Granted, at times it's very rough around the edges and they obviously had a much smaller budget than their heroes in the big leagues, but these eight songs come packing the thunder. A drunken, stoned thunder that keeps getting distracted maybe, but it'll rock your socks off all the same. They also make a great double act with Lowburn and it'd be a crying shame if these two bands don't tour together.
'Omega Boombox' is out now. You can get your copy HERE.
www.facebook.com/redstonechapelband
All content © Über Rock. Not to be reproduced in part or in whole without the express written permission of Über Rock.