By Tim Bolitho-Jones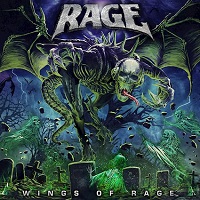 If a band has a big back-catalogue, it can be difficult to know where to start when you first get into them. Do you look up the most recent efforts and then work back gradually, or head straight to the classics and expand from there? Well, with German power-metallers Rage it's even harder to know. Head to their Wikipedia entry and you'll discover a whopping 23 albums recorded over their career and aside from their ground-breaking '98 opus 'XIII,' there's no outright must-haves. Peter "Peavy" Wagner and his co-conspirators have been largely consistent in terms of quality and once you start asking the fan base for recommendations, it becomes apparent that there's no universal favourite.
Now, if you were to head to Über Rock towers and ask a certain writer who refuses to write in the first person even when it impedes the progress of an article, he'd probably suggest 2003's 'Soundchaser,' or 2006's epic 'Speak Of The Dead.' However, this latest effort is a worthy alternative and should give some idea as to why so many people think it's worth staying up past midnight to watch them play with an orchestra at Wacken Open Air. 'Wings Of Rage' is not a genre-defining classic but like their previous releases, it's packed with great songs.
After so long in the game, it's no surprise that Wagner knows how to craft a chorus. 'Let Them Rest In Peace,' 'Chasing The Twilight Zone' and 'Tomorrow' are just three of the ear-worms on offer, each one boasting thick power-chord riffs and booming vocal hooks. The sound quality is crisp and clear and there's a heft that belies the fact there's only three guys in the band. Anyone that gets put off by the cheesier side of power metal should find plenty to enjoy as well, there's not a whiff of fromage to be had. This is straight down the line traditional metal that doesn't even get close to the more pompous side of the genre. If they'd spent the eighties touring with Anthrax or Metallica instead of Running Wild and Saxon, they could even pass for the more melodic end of the thrash scene.
The title track especially is indicative of this. It's a fast and anthemic cut that finds the sweet-spot that exists between heavy and melodic, while the opening 'True' is another instant-hit that's destined to be a live favourite. There are no death growls either, so you could play these on a family road-trip without annoying your metal-resistant parents too much.
At the latter end of the album there's a momentum-killing hiccup in the shape of 'Shine A Light,' a mid-paced ballad that drags on for too long, but otherwise 'Wings Of Rage' is great. There's a wealth of fist-punching machismo, plus some grandiose moments like the heartfelt solemnity of 'A Nameless Grave.' Long-time Rage-heads will also be keen to check out 'HTTS 2.0,' a reworking of 'Higher Than The Sky' from 11th album 'End Of All Days' which benefits from a modern production. Wagner's played with the composition too and it might just be our imagination, but it certainly seems heavier than it used to.
Considering this is their third album in five years, it's clear that these veterans are on something of a roll right now. 'Wings Of Rage' isn't perfect and maybe the run time could have been trimmed, but it's full of enjoyable metal songs and the musicianship is always spot on. This should satisfy die-hards and newcomers alike, even if the artwork is uncannily reminiscent of Suicidal Angels' 'Dead Again.' Get it in your ears then stare wide-eyed and intimidated at the rest of their discography.
'Wings Of Rage' is released on next Friday (10 January). You can get your copy HERE.
www.facebook.com/RageOfficialBand
All content © Über Rock.  Not to be reproduced in part or in whole without the express written permission of Über Rock.