By Jonny Bakes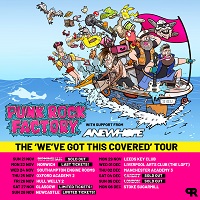 I distinctly remember one of my friends coming up to me at Bloodstock absolutely buzzing with excitement to tell me that he'd just seen a band cover the 'Fun House' theme tune. Shortly afterwards, I started to see more and more people raving about this last-minute addition to the Bloodstock line-up and I suddenly regretted not crawling out of my van in time to check them out. It's okay though, because I managed to convince the boss to put me down to go see Punk Rock Factory in Glasgow, even though they are "only" a cover band…
The weather seemed to be completely against us, as I'm sure anyone who tried to get to Glasgow on Saturday can relate! But we managed to get to the Cathouse just in time to catch the very end of A New Hope, who seemed to be doing a great job of getting the crowd of my favourite venue (and rock club), The Cathouse, all warmed up and raring to go for the main event of the evening. Naturally, I took the opportunity to grab myself a beer and grab a spot ready to see whether Punk Rock Factory would live up to the hype that I'd been hearing since Bloodstock.
The set opened with the 'Back To The Future' theme as Punk Rock Factory took to the stage, so naturally this was a pretty instant hit for me (it is one of my favourite films after all!). This was quickly followed by the band launching into an incredibly energetic cover of the 'Thundercats' theme tune. I could help but wonder how many people in the room were old enough to remember the show, but it didn't seem to make a difference as everyone went pretty wild! We bounced from track to track with hardly a pause for breath, blasting through covers of 'The Greatest Show' and 'Do You Want to Build a Snowman?' with the whole crowd belting out the words.
If things weren't already raucous enough, things seemed to reach a whole new level when the band unleashed an incredible cover of the 'Pokémon' theme which was met with a huge reception from this eager crowd who were lapping up every moment by this point! Fortunately, I'd finally made time to watch 'Moana' recently, so I was able to join the rest of the crowd as they became frenzied the moment the drum intro to 'You're Welcome' kicked in and, boy, did everyone belt this out when it really got going. Considering that it was absolutely baltic when we got into the Catty, by this point it was an absolute sweatbox and I loved every minute of it!
It wouldn't be a Glasgow gig without a chant of "here we fucking go" and this gig was no exception, in fact it happened on multiple occasions between songs. If it wasn't this, it was the equally classic "one more tune" (or even "lots more tunes") as we simply could not get enough! It may have only been November, but that didn't stop Punk Rock Factory getting a bit festive with their own punk take on Shakin' Stevens 'Merry Christmas Everyone' which also went down an absolute storm, it was as if they could do no wrong with this setlist! There were plenty more Disney covers thrown into the set too with songs from The Little Mermaid, Mulan and another from Frozen all making it into the mix.
But it's not just nostalgic kids themes we lost our minds to, there were also covers of classic '00s songs such as Bowling for Soup's '1985' and Papa Roach's 'Last Resort' both of which we were guaranteed to hear at the subsequent Catty club night! The cover of 'Last Resort' was great for those with a short attention span as they managed to blast through it in about half the time of the original too! But do you know what my highlight of the set was? Well, it is quite possibly the homage to a certain man, his mullet and a pair of blonde twins… that's right we got to hear the Fun House theme! It was like all of my Christmases had come at once! Unfortunately, all good things must end, but Punk Rock Factory went out with a bang with another wildly popular song from Moana – 'How Far I'll Go'.
Everyone I spoke to during the gig and afterwards were all in complete agreement that this was one hell of a gig and absolutely worth braving the storm (and in some cases deliberately skipping The Offspring or Bleed From Within who were both in Glasgow on the same night). I loved every minute of it and couldn't wipe the big shit-eating grin off my face for a good few hours afterwards. If you want to have a seriously fun night, I would definitely recommend checking out Punk Rock Factory when they come to a venue near you!
www.facebook.com/punkrockfactory
All content © Über Rock. Not to be reproduced in part or in whole without the express written permission of Über Rock.