By John Bedard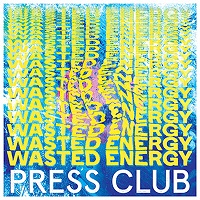 'Wasted Energy' is a passionate collection of emotions rather than just a group of songs. You can feel the passion and meaning that each song holds for the band members. With a strong delivery and a band that clearly works well together, we have all the makings of a great album here. I don't think that many people will be disappointed with this. It is a nice relaxed listen, even if the lyrics are rather sombre.
Vocally, many of the songs remind me of very early Paramore. There is that similar, shouting at the world, feeling here that I have always liked. Natalie Foster delivers powerful vocals with quite a bit of breakup and is perfectly supported by the band. Musically things are actually rather simple, but in the way that it should be. Iain MacRae was quoted as saying "First and foremost we're a live band. We only write and record what the four of us can replicate on stage." I think this was a really good idea and really shows. There is no over the top showing off you get with some bands. Instead, what we have is heartfelt and right without too much complexity to get bogged down in also I think because of this the band's energy live will be great and very connected to the crowd.
My biggest complaint, if I had to pick one, is the repetition. Most of the songs are quite repetitive and I have never really been a fan of that. However, as I said earlier the album has a simplicity about it and once I listened to it a couple of times and I was not running around trying to get things done but instead I was relaxed and ready to listen things changed. I found myself chanting the repeated lyrics with Natalie and really connecting to the emotion in the music. Admittedly, because of the repetition, it took me a bit to get into the album but it was well worth it.
'Wasted Energy' is far from a waste of time and is worth the energy to go pick it up yourself. What we have here is an emotional performance that is very comforting in the same way that looking out the window on a rainy day is comforting. Do yourself a favor and give this one a chance. I think you will like what you find. I know I did. 'Wasted Energy' comes out on my birthday and I think it was a great gift.
'Wasted Energy' is released on 16 August. You can get your copy HERE.
Press Club play the following dates:
Thursday 22 August – Huddersfield, The Parish
Friday 23 August – Reading Festival
Saturday 24 August – Leeds Festival
Sunday 25 August – Greenbelt Festival
Tuesday 27 August – Stafford, Redrum
Wednesday 28 August – Nottingham, Bodega
Thursday 29 August – Newcastle-Upon-Tyne, Surf Cafe
Friday 30 August – Glasgow, Broadcast
Saturday 31 August – Manchester, Night People
Tuesday 3 September – Worcester, Annie's
Wednesday 4 September – Norwich, Bermuda Bob's Hi-Fi
Thursday 5 September – London, New Cross Inn
Friday 6 September – Brighton, Prince Albert
www.facebook.com/pressclubmusic/
All content © Über Rock. Not to be reproduced in part or in whole without the express written permission of Über Rock.