By Rich Hobson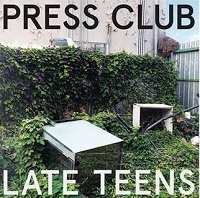 There's something inherently joyous and triumphant to be said of the contemporary punk revival. Taking cues from the likes of post-hardcore, heartfelt arena rock protest songs and the American indie movement of the '00s, the genre has moved on enormously from its nihilistic – oft antagonistic – origins to become a true agent for social and personal change. Australian newcomers Press Club tap into this sense of empathy and enormity on 'Late Teens', producing a debut record which brims with ambition and excitement as it blasts out the best parts of arena rock inclusivity and punk authenticity.
Opener 'Crash' sets the stall out early on; the building rumble of Frank Lees drumming and ethereal guitar work of Greg Rietwyk immediately evokes a sense of enormity, perfectly underpinned by an emotionally charged vocal from Natalie Foster, her voice cracking at first as if addressing a crowd too big to believe. It all changes as the song kicks in; Iain MacRae's bassline provides a powerful support column which lets the whole thing take off, Foster growing louder and more passionate as the song builds to crescendo. The screamed line "I'm not waiting" serves as a perfect summation of just how urgent and insistent the band get throughout the record, setting the stage for follow-up 'Headwreck', two-and-a-half minutes of pure punk excitability.
From here, the record becomes a careful balancing act between short, sharp blasts of punk rock lightning and anthemic modern punk rock. The one consistent element is the sense of emotional authenticity that the band bring to each track, Foster's delivery soulful and powerful in a way that shucks off all affectations in favour of straight-up emotional broadcasting. Press Club aren't a punk act in the traditional sense – this record is buffed to almost pop levels of sheen, and the effects-laden tones of the instruments are an antithesis to the simplicity of early punk. But the sheer heart they possess, and the no-frills approach they take to communicating with the listener takes on the perceived honesty of that first movement, meeting it with the at-odds experimentalism of 80s underground bands like Husker Du, The Minutemen and Replacements.
Given more commercial edge than those bands, it's inevitable that some punk rock purists are going to struggle to get their heads around a band who possess undeniable mass appeal. The flipside however is that the universality of their music and straight up wicked song-writing chops put this band on par with some of the most successful bands to have emerged from punk over the decades without taking away any of their bite or passion. Songs like 'Trading Punches' and 'Let it Fall' seem cater-made for the radio, making it all the more unfortunate that rock radio is largely a continental-regional thing now, largely having died out in the UK. Such songs are anthemic and recognisable from the first listen, sticking deep into the brain to the point where they feel like they'll never leave – not that you'd ever want them to.
'Late Teens' isn't a perfect debut – it starts and ends incredibly strong, but somewhat treads water around the middle – but it does illustrate what this band could be capable of and the enormous potential they possess. Much like the period its title evokes, it is a record of discovery; figuring out what works best and finding new ways to express itself and its intentions whilst still fitting in with the conventions of the wider scene. It achieves this exceptionally well, and there's no doubt that if the band continue to write songs of the calibre of 'Stay Low', 'My Body's Changing' and 'Let It Fall' that the sky is the very limit for the band, and deservedly so.
'Late Teens' is out now. You can get your copy HERE.
Press Club play the following dates this Spring:
Tuesday 16 April – Cheltenham, Frog and Fiddle
Wednesday 17 April – Bristol, Hy-Brasil Music Club
Thursday 18 April – Newcastle Upon Tyne, Think Tank
Friday 19 April – Edinburgh, Sneaky Pete's
Thursday 2 May – London, The Islington
Friday 3 May – Birmingham, Dark Horse
Wednesday 8 May – Cardiff, Clwb Ifor Bach
www.facebook.com/pressclubmusic/
All content © Über Not to be reproduced in part or in whole without the express written permission of Über Rock.