By Jonny Bakes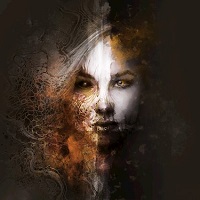 We seem to be experiencing a little influx of debut EPs from bands here at ÜRHQ at the moment which is perfect for me. These tasty musical morsels are perfect appetisers to get a feel for a band's sound, get you all worked up for future releases and leave room to take in some more new things at the same time. This next one on my list is from Swiss metallers Ophelia's Eye, based on the novel 'The Sandman' by E.T.A Hoffmann, promises to be a pretty heavy affair so I might as well dive right in and get involved with the 'Fight for Us'.
There was no messing around when this was billed as something pretty heavy, it's got a strong melodic death metal sound that leans into a metalcore somewhat. It's a bit like the mid-ground between Children of Bodom and Killswitch Engage, but with a vocal style that sounds more like it's been inspired by Johan Hegg of Amon Amarth. There are only three tracks to get stuck into but it's enough to give a pretty clear idea that Ophelia's Eye is all about heavy energetic music that retains catchy melodies to bring some very solid modern metal. While the band itself can be traced back a fair while, this incarnation known as Ophelia's Eye has only been in existence for a short period of time which leads to a debut album that is as tight as a pair of last summer's trousers.
Two of the tracks from the EP are already out there for the world to see, 'Fight for Us' and 'Speak Words of Destruction', which have been causing waves across the underground with their ferocious nature, so instead I'll focus on the closing track 'Ophelia's Eye'. After the pummeling you've received from tracks one and two, it offers a little bit of respite with a gentle guitar riff, but this is short lived before you are pummelled again with the roar of vocalist Michel. From this point onwards, it's business as usual and you find yourself getting sucked into the ferociousness of the music again as it beats you into submission but, of course, that's just how we like it.
Sadly, there's a void in the melodic death metal scene after the passing of Alexi Laiho late last year but it could be that Ophelia's Eye are in the right place to step up and help fill that void. 'Fight for Us' is a well-polished display of ferocious energy that is delivered with such conviction that it simply can't be ignored. Watch this space, because Ophelia's Eye look to have what it takes to break out of the underground, so I would expect to see them at a venue near you… when they're allowed.
'Fight for Us' is out now. You can get your copy HERE.
All content © Über Rock. Not to be reproduced in part or in whole without the express written permission of Über Rock.