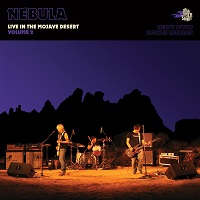 The canyon parties of the early desert rock scene are a thing of legend and rightfully so. It may have been a few years since Josh, Nick, Brant and friends played right through the night in the desert but the current lockdown is making people have to be resourceful about how they're going to safely organise any gig or live stream. Step forth five of the foremost bands of that scene, or at least some that were involved at the time. In this particular stream Nebula, to re-enact the passion and tripped out music that made that scene so iconic.
With no bands for support, we get a few different things to whets our appetites for the forthcoming stream. A mixture of previous live songs from Nebula, such as 'Let It Burn' recorded in Cleveland in 2004 and 'Down The Highway', also in Cleveland, from 2006, mix in a chat with the band conducted by a couple of people you could say are in the know about that scene and excerpts of similar acts such as Lo-Pan from Stoned and Dusted and the busy chat room accompanying the stream is flicking past at a rate that I daresay some of the attendees would not be able to keep up with at times. The hour passes quickly and it's now time for the former Fu Manchu members to take centre stage…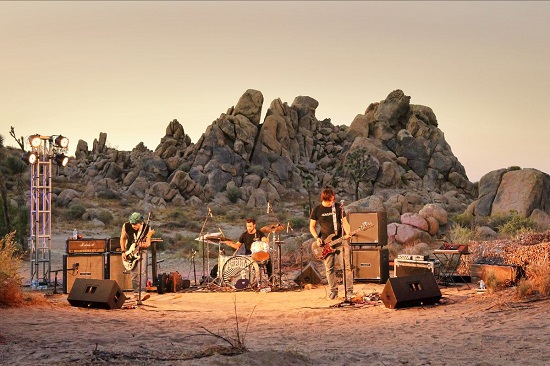 The visuals are instantly like you've dropped some particularly potent acid, with a mix of vibrant colours illuminating the band and the desert sunset happening around them, with the Mad Alchemy Liquid Light Show doing an excellent job of setting the scene before we even get properly into it with Nebula, something they continue in a suitably apt manner throughout the performance. We get a 12-song setlist which opens with cult classic 'To The Center', something I thought they may keep for an encore or at least until towards the end of the set and it's a hell of a way to kick the proceedings off!
The songs are taken from throughout their career together, from 1999's 'To The Center' on Sub Pop right through to 2019's 'Holy Shit' on Heavy Psych Sounds Records, with the second track of the set, 'Man's Best Friend' coming from the latter, and a plethora in between, with the likes of 'Giant' and 'Wall Of Confusion' featuring in the first half, before Eddie and co take a brief breather to chat with us before getting ready to go again!
'Let's Get Lost' kicks us back off in style with the desert now set, leaving the lighting and visuals wizards to play their part even more, utilising the shadows and contrasting hues to full effect to increase the psych overtones visually, almost leaving us feeling like we are on some kind of vision quest with the perfect soundtrack jamming along to provide a more complete experience. 'Messiah' leads into 'Perfect Rapture' before we head into our final two tracks of the night in 'It's All Over' and 'Witching Hour', which combines perfectly to bring a fittingly festive affair to a close.
It feels nothing like the hour of music we have actually gotten, passing so quickly due to the sheer immersion that the visuals and music combine to create, so well is everything put together that it's only by watching Eddie Glass fairly intently that I actually notice the couple of small issues he seems to have with his board, none of which impacts at all on the sound. A fitting tribute to the whole culture of the desert rock scene and something that I daresay bodes well for future similar happenings.
The 'Live In The Mojave Desert' sessions continue with Spirit Mother on Saturday 20 February and Mountain Tamer on Saturday 6 March, finishing with Stoner, featuring Brant Bjork and Nick Oliveri, on Saturday 20 March.
Heavy Psych Sounds will release the 'Live In The Mojave Desert' sessions on CD and vinyl in April. You can get your copies HERE.
All content © Über Rock. Not to be reproduced in part or in whole without the express written permission of Über Rock.