Written by Rich Hobson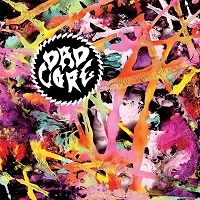 There's no denying that alternative music is getting long in the tooth. With some bands stretching back as far as the late '60s, we now face a point where alternative hasn't just grown up; it's had kids, grandkids, and retired to a house in the country. Whilst there are plenty of bands raging against the old guard and injecting the whole musical sphere with a new breed of snotty angst, Mozes and the Firstborn have gone in a different direction for their third record 'Dadcore', opting to pull together a mix-tape style compilation of styles that serves as a love-letter to the slacker and weirdo happy music of yester-year.
Not aping any single one band or style, the band offer the kind of refreshing expanse that can only come from drawing from dozens of sources at once. The end result is something which explores the fertile grounds of '80s underground rock, '90s radio/college rock and even early '00s emo/indie, a la The World Is A Beautiful Place And I Am No Longer Afraid To Die. Much like last year's Laura Jane Grace and The Devouring Mothers similarly mix-tape themed record, 'Dadcore' has a stream-of-consciousness feel that, whilst unified by the performance style of the band, creates a sense more akin to listening to a patchwork than to a full record.
That's not necessarily a bad thing, however. This actually lends the whole record an organic feel, exploring the song-writing prowess of the group whilst expanding on a sonic identity which feels steadily pieced together with love for a style of music which has influenced both the band and – ideally – the listener. Ignoring the mild dismissiveness of the title (as much as people want to paint rock as an ailing, old genre, the fact remains it still pulls massive crowds on a global scale; it's not quite hit Abe Simpson levels just yet!), the record evokes the likes of Meat Puppets, Dinosaur Jr. and Mouldy Peaches in its pursuit of simplistic, fun rock songs.
Sweet and uninterested in affectations of coolness or edgy indie-credibility, Mozes and the Firstborn spell out their intentions (quite literally) with the eponymous opening track. Drafting in fellow US indie act together PANGEA, the band evoke the simplistic alt rock that defined the scene pre-Nirvana, leaving the amps off for a quick ditty. It doesn't last long – 'If I' brings things much more to the millennium with a breed of atmospheric indie recognisable to TWIABPAIANATD or Thursday fans, while the lilting melodies of 'Baldly' come out as a hybrid between Beck and Meat Puppets.
Considering that the US strain of indie-adjacent rock has largely taken a tonal stride back towards the brash, roaring age of punk and 90s alternative (see also: Fidlar, PUP, The Menzingers), the choice to go back to basics points to Mozes and the Firstborn's tendency to set their own pace. Wrapping the listener in a sense of easy, fuzzy nostalgia, the band deftly sidestep any notions of being a lazy rehash of what came before in favour of instead openly declaring their love for a style of music which has quietly fallen out of vogue as the notion of rock stardom comes into vogue again.
With 11 tracks showcasing a variety of tones and styles, it's sure that 'Dadcore' is likely to reach different listeners in different places. But then, that's the whole point of the mixtape set-up, and the fact this record offers up so much diversity speaks volumes of the loving care that has gone into replicating what came before. Painting nostalgia in more colours than just sepia and rose, Mozes and The Firstborn have cleverly developed a record which taps into the general love for golden oldies whilst creating an entirely fresh new set of songs. More a mixtape than 'the next Great Rock Album' (something the media seem painfully obsessed with), Mozes and The Firstborn aren't so much here to save rock music as to uphold its legacy, doing a damn fine job in the process.
'Dadcore' is released on Friday (25 January). You can get your copy HERE.
Mozes and the Firstborn play The Shacklewell Arms on Tuesday 12 March.
www.facebook.com/mozesandthefirstborn/
All content © Über Rock.  Not to be reproduced in part or in whole without the express written permission of Über Rock.