Written by DJ Monk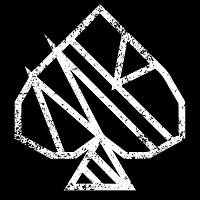 This debut four-track EP from Swiss trio Misty Bliss is another release that initially slipped under the ÜR radar when it landed in our inbox in the lead up to Christmas – and smack in the middle of our website rebuild. Fortunately, it ended up in the "for consideration" file, which is just as well as this is an extremely confident first release from a band who tread that path that travels from heavy blues to psychedelia, via alt-rock and stoner dalliances.
The first thing that strikes you, after the heavy-ass distorted rumbling bass and twisted guitar riff of the opening title track, is Mina's distinctive vocal: her deep growl is initially very masculine in its feel, and it is very hard to draw comparators with other singers, although she obviously has studied at the feet of the likes of Marianne Faithfull, PJ Harvey and other such vocalists with their own unique styling. She possesses one of those voices that act as a fourth instrument, simultaneously sending shivers down your spine while making your ears prick up as your aural cortexes try to figure out just what the fuck they are listening to.
While the title track definitely sets a distinctive atmosphere, 'Deep Desire' snaps and snarls with a pent-up sensual, even sexual, passion, as Mina demands that you "let your body tremble in my hands". Sonically reminiscent of Black Rebel Motorcycle Club, especially in its counterpointing of dense psychedelia with relatively clean-cut guitar harmonies, it pummels and pounds with a dark intensity that permeates the length of the EP.
Mina doubles up on bass, producing some of the heaviest, most distorted riffs this side of the Mojave, while Dr Gab's guitar twists and turns in and around them in perfect synchronicity, both underpinned by the taut percussion of Al (yep, that's they wrote in regard to his name).  'Love Confession' is perhaps the most accessible of the four tracks, while closer 'Take On The World' definitely would give Messrs Bjork, Homme and Oliveri a run for their money in terms of its combination of heaviness, melody and, ffs, infectious catchiness.
All in all, an extremely impressive debut from a band from whom I definitely look forward to hearing more.
'Misty Bliss' is out now. You can get your copy HERE.
www.facebook.com/mistyblissrockband/
All content © Über Rock.  Not to be reproduced in part or in whole without the express written permission of Über Rock.