By Monk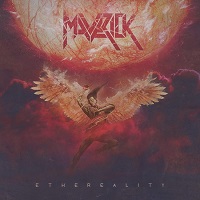 One of the advantages of being a music journalist operating within a fairly close knit community such as the city of Belfast, as opposed to a sprawling metropolis such as London or New York, is that you can very often find yourself coming across a band at the very nascent stages of their career and then watching them blossom and grow over time, develop and mature from a bunch of wet-behind-the-ears NKsOTB into a seasoned and determined well-honed rock 'n' roll machine. Such a case in point are Maverick, who are just about to prove my point in the most emphatic way possible, with this, their third full-length studio album…
And that emphasis is made clear from the very opening thump of latest 'Falling', which crashes out of the speakers with furious intent, and immediately showcases one of the most positive attributes of 'Ethereality' – David Balfour's absolutely stunning vocal performance, which throughout the course of the album's is confident and strident. Over the years, Balfour has suffered problems with his voice, but here he is most definitely, and defiantly, at the top his game, with a delivery that, in many places, sends shivers down your spine.
The hard work that Balfour has put into his voice over the years is evident in full effect, and he utilizes his full range to superb effect, helping to elevate the songs the next level and demonstrating what can be achieved with the determination and will-power to overcome the odds and follow the path you have set out for yourself. One of the problems Balfour has experienced in the past has been with the upper end of his register, but there are at least two, maybe three, moments on here when you find yourself catching your own breath, your jaw dropping in awe such as just before the guitar solo on 'Thirst', just before the fade-out of 'Angels 6' and most especially on 'Dying Star', when he absolutely soars into the stratosphere like Elon Musk blasting a Tesla into space.
Of course, having a great voice means nothing if the rest of the band, and the music, can't back it up. And the four other musicians, led by Balfour's brother Ryan on guitar, also deliver the performances of their lives, delivering in turn a collection of songs that more than aptly fit into the category of "all killer no filler". There is not a weak link in Maverick's armour, from the anthemic gang vocals of lead single 'Switchblade Sister', with it's almost swing vibe, through the rare venture in power balladry that is the magnificent 'The Last One', to the surprisingly dark but energetic 'Bells Of Stygian', which is one of the heaviest songs they've recorded to date. In fact, overall, 'Ethereality' is by far the heaviest album they have done, thanks quite possibly in no part to the recruitment of new drummer Jason Steven Mageney, who has brought a massive bottom end to the quintet's sound which is closer to their live sound than that which they have previously produced in the studio.
We at ÜRHQ have a close relationship with the Maverick boys. As intimated above, DQ and I have followed their career from their very beginning, and they played at our wedding back in 2015. That's not to say that, like all relationships, we haven't had our issues over the years. But, we also pride ourselves on our honesty and objectivity, and I find it hard to argue with DQ's assertion that she has never heard a band mature so fast… And "mature" is perhaps the most appropriate adjective which can be applied to this hard rock masterpiece. It is the sound of a band overflowing with confidence, in every department, from their songwriting through their individual and collective performances.
We may be only three months into 2021, but these Belfast bais have produced one of THE landmark albums of the year, and one which will be almost impossible to emulate, never mind better.  Impressive seems too weak a cumulative description. Sensational is somewhat closer but still somewhat inadequate.
'Ethereality' is released on 1 April. You can get your copy HERE.
www.facebook.com/MaverickBelfastuk
All content © Über Rock. Not to be reproduced in part or in whole without the express written permission of Über Rock.