By Monk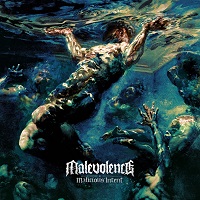 If ever an album lives up to its title, then it is this, what could have been the notoriously difficult third album from Sheffield hardcore heroes Malevolence, as its intent is definitely, and defiantly, to deliver an aural beatdown that is done so maliciously and uncompromisingly. And, it has to be said, the quintet live up to their declaration, in every department, as this is one of the most declarative and emphatic generic albums you will hear this or any other year.
The opening, title track sets out the mark of what to expect: a short, sharp shock to the system that delivers with the fury of a cornered Tyson Fury but with much heavier effectiveness. But, in among the punishing pummelling, something else is almost immediately evident: and that is how far the band have progressed musically. Yes, the aggression is there, but then so are the harmonies and melodies, which are much more prominent than they have been in the past. 'Still Waters Run Deep' is a prime example, with its winding riff and stunning breakdown, which has been lighting up pits since their appearance at last year's Bloodstock festival.
This is the sound of a band not afraid to push the envelope… there's even a "power ballad", for feck sake, as the beautifully emotive 'Higher Place' walks a thin line between the nu-metal vibes of Disturbed and the NOLA groove of Crowbar or EyeHateGod. Indeed, it could be argued that this particular track, which takes us into the album's halfway point, emphasizes and exemplifies its overall feel, which also is quite dark, especially in the feel of the underlying atmosphere, which is dense and hypnotic, a vibe defiantly reinforced with the psych fuelled 'Above All Else' (which coincidentally features a guest appearance from 'The Vampire Diaries' star Matt Honeycutt).
But just when you think you've got a handle on this enigmatic and intriguing album, the guys twist the knife just a little bit more… Yes, that is Matt Heafy of Trivium emerging out of the darkness to lend his not inconsiderable talents to the suitably epic sounding 'Salvation'. Another massive mood swing which once again demonstrates how far Malevolence are prepared to push the boundaries of what they do and defy expectations in the process.
Written and recorded against the backdrop of the pandemic, 'Malicious Intent' is angry but considered album. It possesses a fury that feels like it is about to explode at any second, but which is being deliberately restrained by a group of musicians who know what will happen once it is truly unleashed. A lot of thought, passion and angst has gone into creating this album, and each factor is evident at every point.
'Malicious Intent' is out now. You can get your copy HERE.
Malevolence will headline the Sophie Lancaster Stage at Bloodstock on Saturday 13 August.
www.facebook.com/MalevolenceRiff
All content © Über Rock. Not to be reproduced in part or in whole without the express written permission of Über Rock.