By Jonny Bakes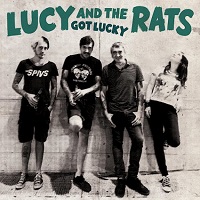 "What year is it?" – it's a phrase that I've found myself saying on a regular basis as it seems that time has lost all meaning in the recent months bouncing between these four walls. Fortunately I've been lucky to have a nice bucket of albums to work through to keep me sane, but even those seem to be conspiring against my ability to tell what year it is. There's plenty of bands out there who have formed their own niche in a different decade whilst existing in this one. Either there's  a musical time travelling conspiracy going on, or just that bands are spoilt for choice with their influences.
I found myself questioning the year again when I had my first listen through this latest release from Lucy and the Rats. It's full of summery vibes yet seems to be musically rooted in the 50s and 60s with it's simple yet effective emphasis on vocals and guitar melodies. Considering the current gloominess, the warmth and positive vibes from this album were exactly what I needed. I would go as far as to say that there's a distinct Beatles influence in the music, although with a slightly modern touch. Expect to hear a blend of classic pop that has been modernised with just a hint of the early 2000s indie scene sneaking in. But the focal point is quite obviously Lucy's vocals, they dominate each track and really grab the attention. Although her voice is quite soft, there is just something about the way it resonates that is bound to grab the attention.
The album opens with 'September' which nearly caught me off guard with its opening line "do you remember" – I thought I was in for a bit of an Earth, Wind and Fire reimagining, but alas not. Instead we're treated to an upbeat trip down Lucy's memory lane of her summer romances, which like all good pop albums becomes a running theme throughout the album. It's a pretty catchy start to the album with lots of "woah-ohs" to join in with.
The catchiness continues with the next track, 'Real Thing' which starts with a riff that would not be out of place in Grease. It's another track about romance, with that age-old question of whether it's actually "the real thing" or just another fling. The chorus riff in this one is pretty great with it's seriously nostalgic sound. I could easily see this being a pretty big single off the album, and a bit of a crowd pleaser too!
It's not all up-beat numbers though, there's a couple of more sombre ballads hidden away in there. 'TV' is one of these which starts with the story of a pretty innocuous fight over the TV which descends into a general lack of trust. The guitar melody definitely takes my mind back to 1950s crooner ballads; in fact specifically it makes me think of the band playing at the Enchantment Under the Sea dance in Back to the Future!
I'll be honest, 'Got Lucky' is not something that really sits in my regular music taste, but perhaps that makes it more impressive that I came away from my first listen wanting to have another listen to try and soak up some more of those good vibes! So, I guess you could say that I "got lucky" with this left field choice. Is it something that I'll find myself listening to regularly? Possibly not. But is it something that I'll show to all my friends who like their music on the less-heavy side? You bet!
'Got Lucky' is out now. You can get your copy HERE.
www.facebook.com/Lucy-and-the-Rats
All content © Über Rock. Not to be reproduced in part or in whole without the express written permission of Über Rock.