By John Bedard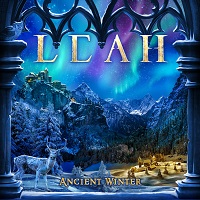 When I opened the press email for this album I was confused. There are some pretty bold claims right upfront. Things like Leah's music could be the soundtrack for 'Game Of Thrones' or that Leah is a "metal Enya" or that "she embodies the archetype of the warrior queen". While I do agree that her music could easily be the soundtrack for some epic shows, and I can see the comparison to Enya, the rest left me scratching my head. It was not until I went back and heard some of her earlier stuff that it all started making sense. The main thing is that I just did not see 'Ancient Winter' as metal. It is closer to folk than what most would think of for metal. This is a departure from what she has done before. All that being said, this is one of the most beautiful albums I have ever heard.
The music is well composed using many folk instruments and styles with heave ambient and symphonic influences. It is soft and comforting while still capturing that big epic feel. There is a lot of reverb as well to help sell that really big sound. It fits the fantasy theme they were going for perfectly. It makes me want to dive back into Skyrim and explore again. That is the last time I can think of where I felt this much wonder in the world thanks to a work of art.
Here is where we get to the really beautiful part. Leah's vocals are inspiring! Earlier when I talked about how the press email said she was a warrior queen, while that might have been true about her earlier albums, I don't think it is how I would describe her in this one. I would say in this one I would compare her more to Galadriel from 'Lord Of The Rings'. The feeling I get is that she comes across as a wise guide leading you along. She has this angelic voice that inspires and comforts. She makes you feel like you can take on anything.
If you don't pick up this album you are missing out. This is one of those albums that will be front and center in your collection. It is the one you will pull out often to show all your friends just in case they have not heard it yet. It is truly a masterpiece that you owe to yourself. I will be making sure I listen to everything she has done after this and if there is ever an opportunity to see this live, I will be there.
Some albums redefine the way you think about life. This is one of those and I loved it.
'Ancient Winter' is out now. You can get your copy, and lots of other goodies, HERE.
All content © Über Rock. Not to be reproduced in part or in whole without the express written permission of Über Rock.