By Jase Walker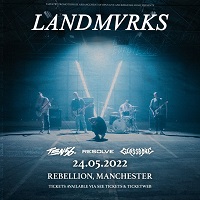 I may as well start paying rent for all the time I spend in Manchester's Rebellion venue, I'm back again already for French R'n'B-infused metalcore outfit, LANDMVRKS, supported by Resolve and Ten56. Sadly Glassbone couldn't make it apparently due to some issues at the ÜK border which is a real shame, hopefully they'll make it another time!
For the supports, I know nothing about Resolve so I'm hoping to get my first experience of their stuff first hand live. Ten56 I've been aware of since their first single a while back and have been looking forward to seeing them live, although I might have to keep an eye out for flying hands and feet mind, as they've got a solid hardcore following.
With Resolve just starting the evening off, Rebellion is already looking packed, last I checked this show was running very low on tickets so I'd be surprised if it's not a full sellout. Okay, I'm immediately into this: rave-y synths, heavy riffs and mixed vocals? Yep, my cuppa right here. The style reminds me to some extent of Northlane, with their whole sort of "mysterious" sound, I'm really digging this. We're barely even part way through the set and I'm already thinking about rinsing their back catalogue during my morning gym sesh tomorrow, this'll be perfect for it.
Resolve are absolutely killing it here, the crowds super into what they're doing, and so am I! Big fat chunky riffs, synth backing it up and some superb vocals all over the top of it all, it sounds fantastic!  Playing a new one off their debut album, 'Seasick Sailor,, my mate whispers to me, "big banger" and he's not lying, some gurn-worthy riffage here and a damn catchy chorus, love it. Finishing with an acoustic led intro into their last song,  Resolve have been a real pleasant surprise here, hopefully won't be long before I see them again!
Over the speakers, "if you're ready to kick a baby clap your hands…", Ten56 get up to inspire the crowd to kick the shit out of each other and I've positioned myself hopefully far enough away from the middle to avoid getting my jaw smacked. That pit is off to a hell of a start right from the first note with ÜK metal scene celebrity, The Pit Troll right in the middle of it. Ten56 are just filth, absolute, pure, unadulterated filth. The grinding riffs and loud as fuck drums just serve as an engine to deliver the hellishly angry growls. The crowd laps this up, seemingly on the brink of complete insanity with every passing bar, the moment Ten56 demands a wall of death, they obey without any hesitation.
Breakdowns are definitely the new guitar solos, especially with hardcore bands like this. They're dispensing them liberally throughout the set, and watching from the sidelines the centre of the crowd is just a sea of non-stop thrashing arms and banging heads. Every chug sounds like an earthquake, shaking the room with glorious low frequencies. Pit Troll getting a shout out from Ten56's singer, all the way down from Glasgow, he's popped up in Manchester quite a few times! Ten56 have done a great job at showing the variety of stuff they've got in their catalogue, ranging from face melting to the downright groovy. They finish doing some vocal stuff that'd make Alex from Slaughter To Prevail blush, bloody hell, what a show.
With a particularly long switchover before Landmvrks get on stage due to the loss of Glassbone, Rebellion's stage floor is now shoulder to shoulder with people and absolutely boiling.
Blasting out Michael Sembello's 'Maniac' prior to their taking the stage, pretty on brand for the genre-bending metalcore group that is Landmvrks, the hype is building up to breaking point!  Opening up with 'Lost In A Wave', the crowd goes batshit immediately, the whole venue's lost it! Crowd surfers and stage diving and we're not even done with the first song yet, madness! I'm genuinely lost for words right now how much everyone here is just going 110 per cent, including Landmvrks themselves. I can't overstate just how much they've improved since I've seen them last time, in this same venue no less. They've truly built an overwhelmingly loyal following in the years since and honed their craft in an incredible way.
I'm in disbelief how they've managed pulling off a show that's sold so well and has this much insane energy on a Tuesday, I've seen weekend gigs more tame than this! Every single song is getting a massive moshpit opening up and following with a subsequent crash right in the middle of it and it's showing no signs of getting close to tiring. I keep catching Pit Troll throwing random people on the top of the pit to crowd surf and seeing him do it with such ease is hilarious!
Later on in the set they get Ten56's singer up for a guest spot and the pit just explodes into frantic movement again, this show hasn't stopped for breath the entire set. One of my favourites later on in the form of 'Scars' and it's god damn sexy intro riff, the set so far has been a pretty fantastic spread of their back catalogue, old, new, anything goes. Admittedly it's good when you catch bands touring but not on a specific album run because you get a spread like this, it's great for old fans and people experiencing them for the first time alike.
Finishing up with an encore featuring the Resolve singer this time, and giving everyone one last chance to go mental, they gladly oblige by jumping on the stage non-stop and diving back into the crowd.
So far 2022 has been one incredible show after the other, and this one has been no different. What an absolute joy it is seeing bands like Landmvrks get so much back for every drop of blood, sweat, and tears that they put into their work. They deserve every bit of success they've worked for.