By Bona Pjarren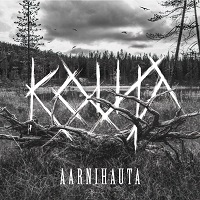 Kouta are a Finnish black metal band whose material centres around old Norse myths and folklore and is inspired by the malign nature of the northern forests and the iniquity of being human. Kouta, I believe, is a place in Finland although the band state that Kouta refers to the myth of the malevolent being and is at the heart of their music. 'Aarnihauta' refers to treasure grave and is the first release of this band. Thematically, the EP tells of the appearance of the mythological being Kouta, whose malevolence brings judgement and despair upon the treacherous mankind.
'Mårran' I have no translation for but it starts with some nice picked slow foreboding guitar and is accompanied by the deep sonorous growls of Antti Mäki. A dark track that builds into a crescendo of thrashing guitars and blast beats.
Title track 'Aarnihauta' is next up and again is introduced with some delicately melodic guitar work before launching into the main body of the song. The blast beats and trem picked guitar propel the track forward before settling into the more measured main body of the song. Strong riffs are ever present and a well-conceived drop make 'Aarnihauta' a very listenable track.
'Maanviha' has a dramatic power chord entrance that quickly establishes a main riff. Interesting melodic ideas are floated above the grinding guitars. There is a real depth of construction being deployed in this track. They have a good range of rhythmic tempo changes which, along with some clever vocal harmonies, really keep the listener engaged.
In conclusion, this is an impressive introductory first EP. I really enjoyed this work, it is packed with ideas from very competent musicians and I feel it is well worth a listen.
'Aarnihauta' is released on Friday (11 March).
All content © Über Rock. Not to be reproduced in part or in whole without the express written permission of Über Rock.