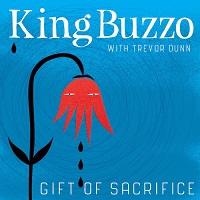 When you combine two people known for their eccentric and experimental approach to music as King Buzzo and Trevor Dunn, it's seldom going to turn out in a straight-laced manner. They've worked together in the past in Fantomas, Melvins Lite and elsewhere and we have plenty of evidence of where that went, so how would a more intimate combination fare? Time for the first spin and to find out…
Contrary to what I had thought previously, there seem to be no guests on at all, nor session players, it is just the pair of them, their voices and instruments and the somewhat sinister tone that they convey between them is a testament to what they've done before, coming across like their Melvins time mixed together with a more blues feel, as if a demon is trying to get the feel of it and not quite succeeding, yet in a manner that feels like it has utterly hit the nail on the head with their aims. While this will undoubtedly sound like a juxtaposition, that's exactly what this album achieves and in a manner that gets stuck utterly inside your head without you even realising it.
With the album originally having been scheduled for an early May release, the then latest single 'I'm Glad I Could Help Out' was chosen by me for our Singles Club round-up only a day before I wrote this review and with good reason, being quite symptomatic of the album as a whole in its offbeat demonic blues feel, while previous single 'Science in Modern America' continues to showcase exactly what this album is all about with Buzzo's acoustic guitar over some wonderfully layered bass lines from Trevor, mired in unsettling vocal harmonies, leaving a mental picture of being sat in gloomy woods, a dense fog settling in around you, engulfing you in its embrace while your imagination runs wild about what may be hiding amongst the swirling mists.
'Delayed Clarity', the longest track on the album, is also one of the standout tracks, taking a sound that is in keeping with the rest before entwining it with something rather more upbeat feeling in a manner akin to Black Sabbath's 'Embryo' before finding itself mired back down in the bogs of demonic blues showcasing a quite different approach with the secondary feel than we get through the majority of the album, but in a manner that doesn't feel out of kilter at the same time. 'Bird Animal' rekindles this same feeling and it feels like a story is being told, even though that would not be immediately obvious by either song titles or the songs individually.
This is a stripped down to the bones approach from two veteran musicians who have repeatedly proven their worth across the years, retaining a level of experimentalism that you would expect from either of the artists separately, never mind together, despite their lack of either session or guest players and in a manner that confirms their lasting legacy of pushing at the boundaries of what most people would try for with their respective instruments and sounds. A credit to both artists who both continue to cement their places amongst the experimental elite.
'Gift Of Sacrifice' is released on 14 August. You can get your copy HERE.
All content © Über Rock. Not to be reproduced in part or in whole without the express written permission of Über Rock.