If you wanted a real showcase of what the Carolinas have to offer as far as heavy music goes, then Amos' Southend was the place to be. The triple billed headlined by Charlotte's very own Killakoi was a prime example of the amazing amount of musical talent that the region has to offer. The lineup featured three bands that all fall into the general rock and metal category but are all so very different. It made for an exciting evening with a little bit of something to offer everyone.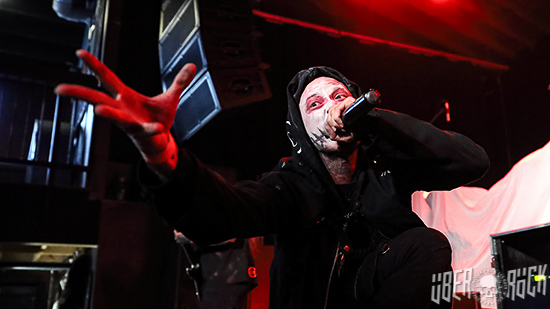 Getting the night started out was a band that I have become very familiar with recently, The Coursing. The three-piece nu-metal band consists of lead vocalist Dillon Sheets, guitarist Mike Malone, and drummer Tyler Wooten and let me tell you that these three really pack a punch. From the second they hit the stage it is on. Sheets is all over the stage flying from one end to the other, slithering, stalking the audience with his eyes the entire time amidst the blistering carnage let loose by Malone and Wooten. The crowd is engaged as The Coursing is in complete control riding the emotional highs and lows with songs 'I Am The Cure' and 'Worthless'.  I read an article recently that claimed scientists may have discovered a fifth fundamental force of nature. I wonder if they've ever seen The Coursing?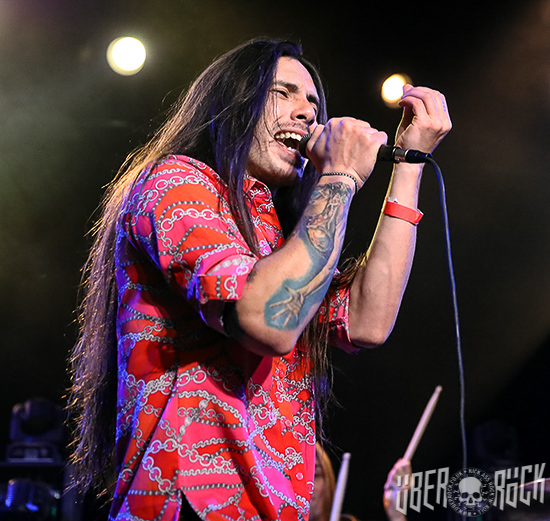 Next up was the four-piece hard rockers form Anderson, South Carolina, Seven Year Witch.  Now, let me say that if you have not seen this band perform yet, what the hell are you waiting for? Their live show is over the top! They walked out onto the stage as a group, one in front of the other, a bit like The Beatles walking on Abbey Road and from that point on, it was non-stop action. The band has a real '70s vibe with blues-based hard rock.  They first made a mark on the scene with an extremely cool cover of Akon's 'I Wanna Love You' and have steadily amassed a huge following.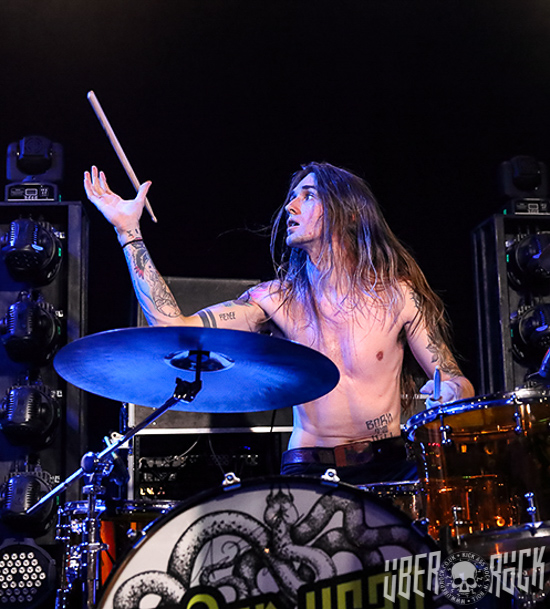 From 'Rags to Riches' to 'Cyanide', Seven Year Witch is the total package. Vocalist Aaron Langford is a perfect frontman, playing to the crowd's every whim as he worked the audience like a seasoned pro.  At any given time, drummer Seth Burden can be seen throwing his sticks in the air, climbing up on his kit, and performing all types of acrobatic skills while never missing a beat. His brother Spencer Burden keeps the bass lines driving while spinning, jumping, and slinging his bass around while guitarist Beau Anderson straight up keeps the riffs coming, going toe to toe with Spencer and Aaron in the jumping competition.   Seven Year Witch is a must-see live band. If they are about to hit the road with Buckcherry, so if they are ever in your area, be sure to check them out.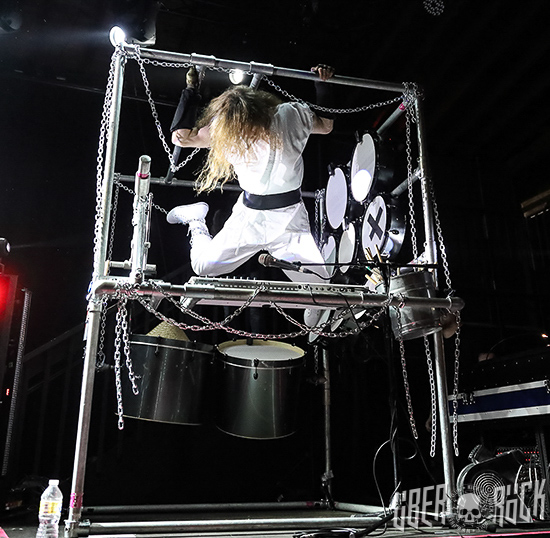 Last, but certainly not least, we have the main event of the evening as Killakoi was about to light things up. Killakoi is a hard rock band that loves to push the limits of what is possible both musically and in their live shows.  The show begins with their multi-purpose instrument known as "The Kage" with Ethan Gibbons hanging inside, chained up by his wrists and ankles.  The Kage was designed and built by the band and is something that you really have to see to understand. One side of it is lined with drums with a keyboard and mic set up in the front. You may see lighted drumsticks, Ethan climbing The Kage, and all sorts of visual delights to go along with the unique programming technology used. This truly is the centerpiece of the live show and something no other band is doing or as far as I know has ever done. I'm not sure if they have a patent on The Kage yet, but if they don't, they really should look into it. It is that cool and that unique.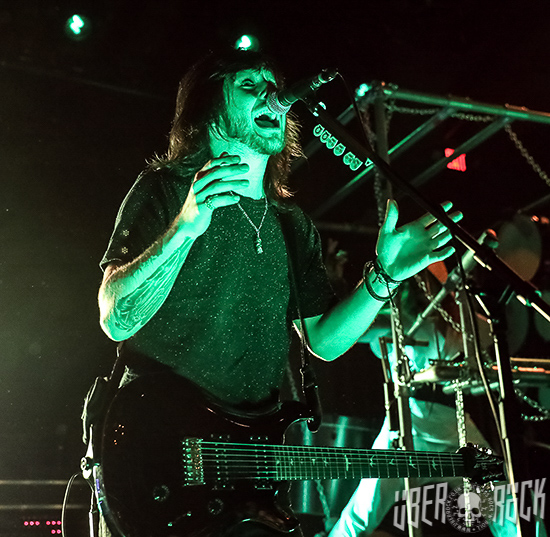 Ok, enough about The Kage, because there is a plethora of other things that have to be mentioned when discussing a Killakoi performance. Lead vocalist Jordan Mattacchione is a passionate performer and even brought a young fan up onto the stage to help sing the first song. Robbie Reimer is a beast behind the kit and Sam Ocheltree doubles on bass and keyboards while Kelly Flusk lets it fly on lead guitar. Killakoi is always a great performance with fantastic lighting displays and a host of things happening visually, but they aren't all show. They have the musical chops to back it up as they are all very talented multi-instrumentalists, proving this during the show when they all swapped out places in a round of "musical" musical instruments. Their songwriting is top-notch with crowd favorites 'Better off Dead' and 'Not For Nothing' having the feel of true arena-rock anthems.  Their latest single is 'When It's Raining' and although the band didn't actually make it rain on stage this time, it wouldn't surprise me if they had a few tricks up their sleeves for next time.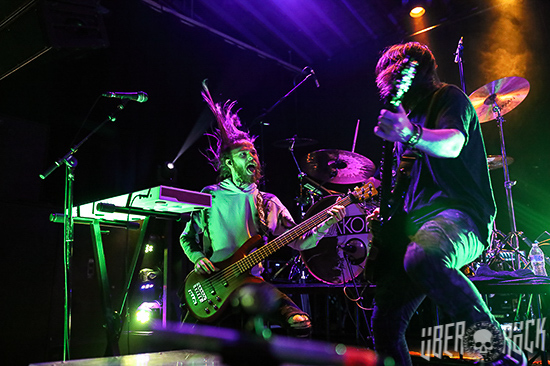 This was definitely the triple-header of the season for Charlotte rock fans and one that we won't soon forget.
PHOTO CREDIT: All photos © fiascokris/Über Rock. You can view our full gallery of photographs HERE.
All content © Über Not to be reproduced in part or in whole without the express written permission of Über Rock.