By Jonny Bakes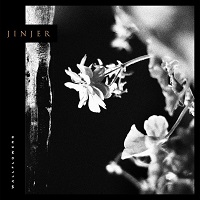 Jinjer has been on my mind a lot recently, and I'm sure it's the same for many others too, as a result of Bloodstock Festival. After we had all started to get over the fact that they were unable to play, there was a brief glimmer of hope that they would make it after all but, alas, despite the band's best efforts it just wasn't meant to be this year. While that sucked pretty hard, it's time to turn that frown upside down because, instead, we are treated to an album that promises to build on the success of the explosive 'Macro'.
And here it is, 'Wallflowers' comes storming in to save the day bringing with it the elegant brutality that has me absolutely hooked on Jinjer. It's still heavily steeped in the prog metal circle with technical guitar work, ridiculous (and borderline djent) bass lines and syncopated rhythms that make me want to just put my drum kit up for sale now. The way the music transitions between being relatively gentle to serious brutal breakdowns is incredible, and this is matched by Tati's ability to seamlessly switch from melodic vocals to aggressive death growls (we're talking easily on par with Angela Gossow). This combination pushes all of my buttons in just the right way and I'm sure it will do the same for all those already initiated into the Jinjer fanbase, as well as plenty more. But there's something lingering in the background of 'Wallflowers' that intrigued me, the lyrics and tone of the tracks makes me feel that this may be based on personal struggles, particularly there are strong themes of mental health that is incredibly prevalent after the shitshow of a couple of years we've had!
'Wallflowers' is one of those cover-to-cover albums in my opinion. I could quite happily stick this on and listen to it over and over again without skipping a single track. But, of course, you know I always like to pick out at least one track that really grabs my attention, so here we go… let's start with 'Wallflower'. As the title suggests, this song is clearly about introversion, and it was one of the lines later in the track that stood out to me making this theme clearer – "I gotta go home, my batteries are low, this life is a lockdown." It starts out as a bit of melancholic ballad, but it progresses through into something pretty aggressive that rings true of someone who has completely had enough of social interaction and needs to get some space, and fast! If I were to pick just one track of the album to stick into my regular mix it would most likely be this one!
'Colossus' also deserves a mention as it's a track that lives up to its title straight off the bat. It launches into this wall of noise and aggression that is laced with some impressive technical guitar work. The short instrumental breakdowns between the vocal passages maintain the momentum of this Goliath of a track resulting in something that is completely relentless in the raw aggression it displays. As the second track on the album, it makes sure that if, by some miracle, you weren't hooked after the first track 'Colossus' will do the job and you'll be on board for the full ride.
So, while we may have been gutted that Jinjer couldn't make it across for Bloodstock, 'Wallflowers' has more than made up for that! It's another level for Jinjer's meteoric rise and further shows exactly why they deserve slots at these big festivals. 'Wallflowers' is definitely an album worthy of being listened to from cover to cover and will blow you away with the elegant mixture of groove, melody, brutality, and technicality that we can safely say is the Jinher signature sound. Jinjer have crafted a sound that is pretty unique, and they continue to drive that forward in a way that threatens to be unstoppable, and personally I'm more than happy to go along for the ride. In case you hadn't noticed, this has been a serious hit for me, and I expect I will be in a massive crowd of people who think the same, but the sales and streams will speak for themselves I reckon!
'Wallflower' is out now. You can get your copy HERE.
www.facebook.com/JinjerOfficial
All content © Über Rock. Not to be reproduced in part or in whole without the express written permission of Über Rock.