Questions by DJ Astrocreep.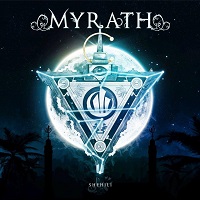 A couple of weeks ago, Tunisian metal crue Myrath dropped the stunning video to the track 'No Holding Back', the final instalment in a trilogy of themed clips to promote their forthcoming new album, 'Shehili'. In fact, we at ÜR were so impressed with the epic visualization that we gave it our coveted 'Video Of The Week' award at the time…
Band founder and vocalist Zaher Zorgati recently popped across the English Channel from his adopted home of Paris to dirty ol' London town, for a round of media interviews. I took the opportunity to grab a chat with this most charismatic of characters, and started by asking him how the upcoming album compared to the band's previous releases?
Each Myrath album is a different story. You know, from my point of view, the best way to do something new and fresh is to think "out of the box". It means doing things with instinct without calculating anything and with no target.
Each album is a new white paper. 'Shehili' took us almost a year to compose and believe me we tried lot of stuff. We composed a lot a idea, but also throw a lot. We were influenced by a lot a different music styles, such as rock, metal, Andalusian music, djent, Berber, prog, alternative… so, we ended with a new music gender called "blazing desert metal".
What inspired you to release a music video in full 4k to promote the new album?
 'Dance' is the second episode of our last trilogy ('Believer', 'Dance'  and 'No Holding Back'). Since a long time now we wanted to propose something new in term of image, and there is something which is definitively missing in metal music videos: stories.
We love stories, we love to create emotions with stories through our music,  through our lyrics, and also our video clips!
Talking about 'Dance' video, it's an tribute to a Syrian dancer who was threated to death by ISIS.
He tattooed "dance or die" on his neck. It's such a touching story. If your listen to the lyrics, you can find a duality btw the depth of the meaning and the happiness we put into the music. "Dance with me, Dance" means "Fight with me, Fight": fight against all the injustices in the world.
Did you encounter any obstacles when writing the new album?
Not that much. We tried lot of things with Kevin Codfert (our producer). Experimenting is the key, I guess.
We also tried to compose on crappy loud speakers to be sure that the "essence" of our ideas fit any sound system, even minimalist systems.
The tough part has been the recording, as we decided to record in Tunisia with the national Orchestra of Tunis for the violins, in Germany at the legendary Chameleon Studio for the drums, and in France in Kevin's Studio for the vocals, guitars and bass. So, logistically speaking, it has been lot of flights, lot of files and lot of time spent to achieve the target.
Do you think your heritage and influence from traditional folk music has helped to set you apart from your contemporaries to an extent?
That's pretty sure!! We are from Tunisia, so Andalusian and Berber music is on our blood, and I think it made a huge difference. A lot of European bands are including these kinds of influences in their music, but we have the privilege to really know how it must sound.
Who were your main influences in music, who made you want to play your instruments or sing?
When I was 13 years old, my cousin from Germany brought me a tape with Metallica, Pantera, Sepultura… I guess it was the first time I listened to metal! And I was chocked. I start singing Berber music when I was four years old, but metal is the music that definitively gave me the aim to be a professional musician.
Having toured previously with such big names as Dream Theater, how does playing big European festivals this summer compare?
Being a support band vs playing festival is a totally different story. Logistically it's not the same thing. On tour you have your own routine, the same organization everyday compared to festivals. Festivals are much more stressful in a way that you are never totally prepared for it. Short line check, different gear, isolated gig etc… It's not the same sensations at all.
Do you have a preference to indoor or outdoor gigs?
We love both, but I think indoor gigs are better to manage lights and sound. So, I personally prefer indoor gigs.
Do you have a particular dream you want to achieve in your music career?
Yes, of course!! My aim is to stop all my side projects to focus only on Myrath and earn money just with my band!
What has been your strangest experience in music so far?
Strangest? Mmm… nothing, I guess… But greatest? Definitely yes. Last year we played the Carthage amphiteatre headlining in front of 7000 people (we shot a DVD from this gig). It has been the greatest experience for me so far. Seven thousand people screaming and singing the songs with the band. Such an incredible experience!!
'Shehili' is released on 3 May. You can get your copy HERE.
Myrath play the Sweden Rock festival on Saturday 8 June.
All content © Über Rock. Not to be reproduced in part or in whole without the express written permission of Über Rock.