By Jonni D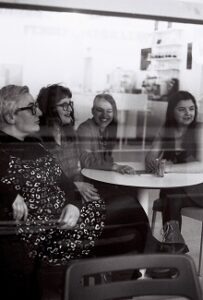 Every once in a while, it seems that certain artists make a timely entrance into the public gaze in order to cogently and sincerely speak on behalf of a specific group of people – be that through words, sounds or images.  The universe is kind in that way.  A recent prophetic arrival on the Belfast music scene has been the punk four-piece, Problem Patterns, who in an extraordinarily short amount of time has proven to be one of the most exciting musical prospects this country has to offer right now.  Managing a deft balance between instigating much needed discourse on a number of weighty societal issues as well as being one of the most fun current live acts in the alternative scene, the band has dug its colours into this land's cultural zeitgeist. 
"We're very aware of the 'girls in a band' stereotype, and we're determined to show that women can do this well," explains Ciara King, joined by the rest of her bandmates Alanah Smith, Beverley Boal and Bethany Crooks.  Although flippantly describing themselves as 'a bunch of women screaming in a room', Problem Patterns is a band unafraid to wear its feminist ideals as a badge of honour.  "I think it was just natural for us to become a punk band," adds Beverley, "We just find it easy to talk about what we're annoyed about as a collective, and the model of a feminist punk band fits that well."
While notions of gender are tackled head on, these women are also an endorsement of redefining what it means to be a band in the traditional sense; the use of 'collective' being rather telling.  You see, Problem Patterns eschews the standard role of a front-person, to allow every member to realize their full potential of expression.  Alanah comments: "We're really lucky that we've developed an encouraging space that embraces the way each of us is talented in different areas.  There's definitely a democracy of songwriting.  You get a real sense of four different women from different backgrounds and different places, and we benefit from all of those perspectives.  Ciara jumps in, "If we're going to be an effective feminist punk band, we need all of those different stories to coalesce.  There's a song that I sing that is in no way melodically sound!  But I was encouraged to express myself that way."
This sense of camaraderie amongst the members is evident in the consideration each member gives to the others' statements, punctuated by numerous bouts of laughter throughout the chat.  "The bottom line is we're all mates," says Bethany, "We're there to lift each other up as friends first, and then as a band.  We couldn't be feminists in a band and put each other down.  That doesn't make sense.  We can very confidently say that the four of us wrote these songs together, even if an individual song may have been primarily shepherded by one person."
The phrase 'genuine anger' is brought up several times by the band, reflecting on how for them the music is first and foremost a cathartic purging of personal and social concerns.  "The band allows us to be angry together in a way that's healthy," explains Alanah.  When questioned on how important it is to view Problem Patterns contextually as a band hailing from Belfast, the four women admit that it provides a "never-ending well of things to observe and talk about." Bethany thoughtfully expounds on this, "Our country is a bit – shall we say- prehistoric on certain issues.  As a gay woman, I'm inherently going to want to tackle the topic of gay marriage in this country.  And I'm lucky that I'm in a band with three other people who feel the same way.  But at the same time, as feminists in Belfast, there are plenty of other things we have to talk about."
With songs tackling issues as serious as abortion rights, sexual assault and misogyny, Problem Patterns successfully avoids feeling like they're simply standing on a soapbox with a megaphone every time they perform.  Take the recently written 'Gal Pals' for instance, to which Bethany alludes; "It's a song about how queer women in relationships often aren't taken as seriously as other pairings – even if you're getting married, you're still just being pals.  I mean, it's a fun song, but the message is still there."  "If you start preaching at people, their first instinct is to shut off," interjects Alanah, "They won't listen to what you have to say in that way.  Our method of conveying our views in a catchy, fun song still has a definite purpose, but sometimes the listener doesn't realize it until they find out the title or hear the punchline."  Case in point is 'Mediocre Man'; "We didn't just write a song that says 'Men are trash!'  It allows folks to maybe have a laugh at the lyrics ["Slack off, call it my aesthetic/Jack off when I'm feeling pathetic/I just want to be a mediocre man"], but hopefully causes questions to be raised when they need to be."
While there is an inherent tongue in cheek aspect to their music, as they wrote songs together, the four members found a way to express their thoughts on difficult subjects, particularly relevant to their local context.  Beverley brings up 'Double Standards' as "a big turning point for us as a band."  When performed live, the song has been prefaced by the amusingly clipped announcement that 'This is a song about rugby.'  However, as the songs progresses, it becomes evident that the song is tackling the very specific sexual abuse claims that dominated local headlines last year.  "That situation was something that impacted us all and we equally felt strongly about.  We were all messaging each other in our group chat, and it created this sense of solidarity.  We feel the only option we have is to raise our voices in the way we can."
The first song that Problem Patterns wrote is a perfect encapsulation of how the band's music is, as Ciara puts it, "important to exist at this moment in time, rather than a few years ago."  'Allegedly' was instigated by yet another revelation of misogynistic acts of a male musician in the UK scene.  Arriving almost fully formed, the band wasted no time in laying the track down.  "We do blend genres from time to time, but that song is a fairly good representation of what Problem Patterns is," believes Alanah.  Since its release, the single has garnered substantial radio play, as well as earning the 81st spot on The Thin Air's Top 100 Irish Tracks of 2018; a testament not only to the quality of the song, but also to the necessity of the conversation regarding its subject matter.  The traction it gained caught the band off guard, as Ciara admits: "We kind of thought that the issue would just be swept under the rug.  But we have had so many great conversations with people who have really dug into what Alanah was saying in that song.  To have that kind of topic being mentioned on radio is pretty powerful."
Impressively, the band managed to create significant buzz without having officially played their first gig.  By the time Problem Patterns headlined the Empire Music Hall, they had already made a considerable name for themselves based on the quality of 'Allegedly.'  And while the band admits that their inaugural show was a huge moment, the members consider it just as important to get their music to crowds that may not necessarily share the same principles.  Alanah mentions their recent performance at Belfast's Output Festival as another integral development for the four-piece; "That was a good example of an audience who potentially wouldn't consider themselves feminists per se, but they gave us the time of day.  Sometimes you can see them taking in the lyrics, and their ears pick up.  They afford you a level of respect, and we really appreciate that."
Even with more and more gigging opportunities pouring in, Problem Patterns is determined to get back to the studio.  "Things happened really fast!  We've only just had the chance to settle down a bit and get to work on more stuff.  But an EP is definitely in the works," promises Bethany.  As they giddily talk about merch ideas and their excitement to record and perform, it's overwhelmingly obvious that this project is a labour of love.  It just so happens that they have tapped into a method of expression that is resonating with a wide audience, succinctly voicing concerns that many find difficult to address.  Put simply, a lot of people were ready for the emergence of Problem Patterns.  "Particularly in the Belfast scene, there hasn't been an all female band that was quite as loud and angry.  We stood out a bit," admits Ciara.  "We just hope the music awakens something in people that they may not have considered before, without feeling like we're just yelling in their face."
"And dance!" laughs Beverley.  "We want all that, but we just want to dance as well."
PHOTO CREDIT: Photo courtesy of Betsy Bailie.
Problem Patterns' debut single 'Allegedly' is out now.
Problem Patterns play the following dates:
https://www.facebook.com/probpatterns/
All content © Über Rock. Not to be reproduced in part or in whole without the express written permission of Über Rock.