By DJ Monk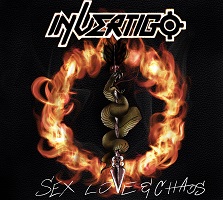 Storming out of the Canadian Midwest like rampaging bulls, In/Vertigo deliver a sound that could be ripped straight from the back-alley dives of Los Angeles rather than the wide-open prairies of the northern plains. But, then, every city has its seedy underground, and these four young(ish) hallions from Calgary certainly have more than enough grime and gunk on their cowboy boots, and inside their skintight jeans, to blend seamlessly into the groove anywhere from Soho to the Strip.
Showcasing just four tracks, 'Sex, Love & Chaos' is a short-sharp shock to the system, a soundtrack for the important things in life – you know, drinking, fucking… though not necessarily in that order – while leaving you begging for more from these rapscallions and their heady blend of sleaze-fuelled rock 'n'f'n' roll. From the high-energy blitzkrieg bop of 'Chains' through the drawling blues fury of 'Bad Enemy' and the funk-punk swagger of 'The Night', In/Vertigo 'Take It' to the top and don't stop (well, OK, they do, but you get the gist). This is one I/V you definitely need to get into your system, as it most definitely provides the most positive development in fighting the beerbug blues that have held us tied down for so long now…
Vocalist Reed Alton has a remarkable voice, one which simultaneously sends shivers down your spine and tickles your balls – or, to quote one of our female readers, will make your ovaries wobble, especially when he hits the high notes on 'Bad Enemy' or signs off at the end of 'The Night'.
'Sex, Love & Chaos' is an impressive introduction to a damn fine rock 'n' roll band, and one which you should be injecting straight into your system with immediate effect, and then ordering a repeat prescription for another dose. But, while we wait for a follow-up, we'll just have to settle for opening another cold one and hitting repeat…
'Sex, Love & Chaos' is out now. You can get your copy HERE.
All content © Über Rock. Not to be reproduced in part or in whole without the express written permission of Über Rock.