Written by DJ Monk. Photos by The Dark Queen.
To say that the first ever visit to this particular corner of the Überverse by one of the definite stars of the British punk 'n' roll firmament was eagerly anticipated would be somewhat of an understatement. This debut Belfast show sold out in less than a minute, with the following evening's return gig down the motorway in Dublin not taking much longer,  making it one of THE "must-see" shows of the year.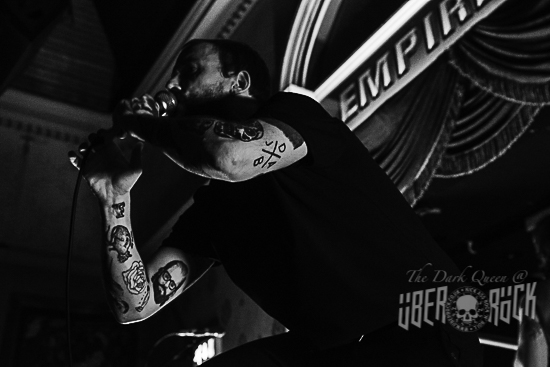 Regular ÜR readers will, of course, be familiar with the Bristol berzerkers and their particular brand of rock 'n' roll mayhem, as we have been championing their cause for quite some time, mainly via the pen of our colleague Rich Hobson, who described their 2017 debut 'Brutalism' as "a suckerpunch to the chops, a fresh entry onto the modern British music landscape with all the hallmarks of greatness… it's funny, it's furious, it's cheeky and addictive, a product of the world it was born into and very much recognisable to anybody who finds the world lacking in quality". Eighteen months later, he was equally effusive about follow-up 'Joy As An Act Of Resistance', praising it as "the sound of one of the UK's finest bands letting loose with their creativity, of fighting an endless flow of hatred with joy and honesty and finding ways to arm the listener for the war to come with tools that can help them grow as individuals and as people" adding that it was an album "which (if life has any sense of justice) will see the band take their rightful place as one of our most important (and certainly favourite) bands going right now". So, we really had no choice but to trot up the street to the historic Belfast Empire to see what all the fuss is about, did we?  No sirree bob, we did not!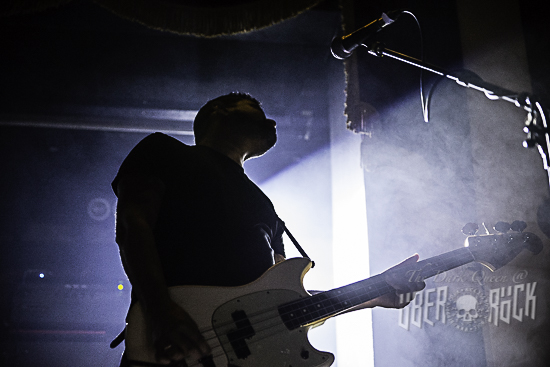 First of all, however, there was the small matter of tour support Crows. The London quartet take to a stage draped in smoke and illuminated only by two revolving spotlights, as they attempt to deliver gothic-tinged alt-punk, but the effect is disjointed and lacks any anarchic appeal they may be seeking to evoke.  What follows is a cacophonous wall of noise, with no distinguishable riffs, harmonies and melodies, topped off with a caterwaul of a vocal that doesn't make any sense in the slightest. With careful listening – and, believe me, it is a strain – you can detect sub-Bauhaus elements, but you have to struggle to make any aural sense from this din. On a positive note, they get a good reception, especially when the vocalist takes to the crowd mid-set, and penultimate track 'Itch' is actually quite catchy and possibly would have got my foot tapping if the guy in front of me hadn't been standing on it for the entire set!
The venue is filled to capacity, with not a spare inch on the floor (making it a five-minute long fight just to make it to the loos and back) as IDLES get their set off to a slow, hypnotic set.  But then – BOOM! All hell breaks loose as first guitarist Mark Bowen leaps into the crowd – and not for the last time – while Lee Kiernan climbs onto the crash barriers (this is only the second time I've seen barriers used in 20+ years of attending gigs in this historic venue!), as the first bodies go flying over it.
By the time they reach the (literally) china-smashing 'Mother' (which Joe Talbot is "24 hours late") and, shortly afterwards, 'I Am Scum', the floor, and indeed the whole venue, is a riotous, seething mass of flailing bodies as the Bristolians prove, from the first second to the last of their 90 minute set, why they are indeed on of the singular most exciting lives bands in the Über Kingdom, if not in the entire Überverse, today (or any other day for that matter.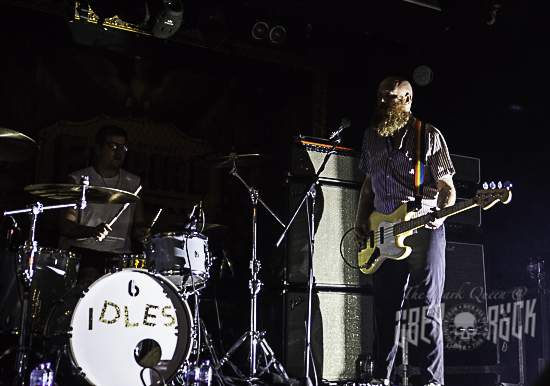 With yet more crowd walking, and the crew having to work overtime as the guitarists constantly dive into the audience (maybe time to consider going wireless, boys?), this is batshit bonkers on a seriously batshit bonkers level, and then ratcheted up ten notches. Yet, in among all in the insanity, they manage to get across their equally serious lyrical messages across in a highly effective level. Then, showing that they are indeed a people's band, they are joined by über fan Lochláinn Kelly, who had plagued the band to be allowed to play drums on 'Romantic Gestures' – a song not actually on the setlist! Finally, however, the band relent and he is hauled on stage – where he acquits himself extremely well, earning a standing ovation and "we're not worthy" style adulation from the musicians themselves.
The anarchy continues, with moshpits, crowd surfing, mass singalongs, Talbot necking pints of Guinness, fans being handed guitars, tributes to Bon Jovi, Nirvana and Mariah Carey (a cover of 'All I Want For Christmas' on April Fool's Day is a stroke of insane genius) and calls to "don't read The Sun – it gives you cancer" before the set ends in a two-and-a-half minute long barrage of strobe lights.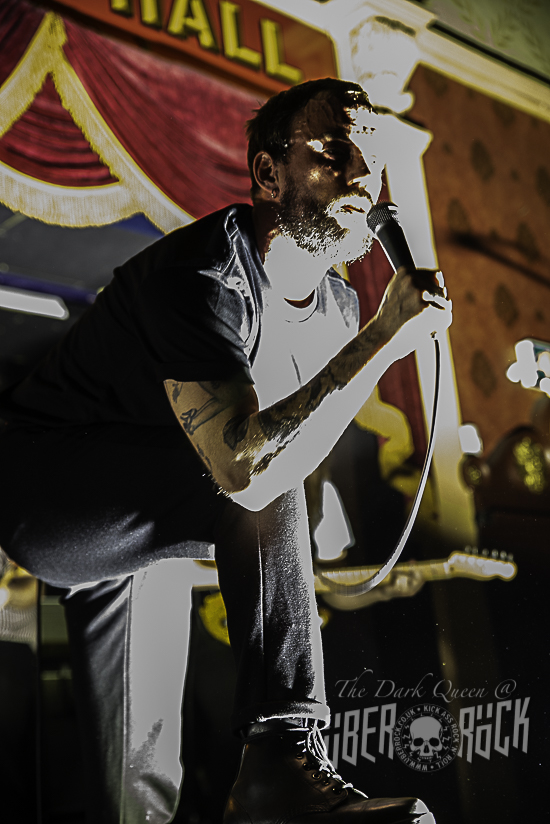 So, did IDLES live up to all the filthy, furious hype? Yes, they did. And then some. Insane brilliance.