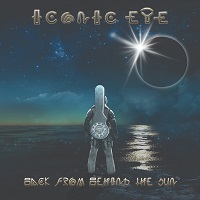 This is the first recording for Iconic Eye following a brief hiatus after their first album and featuring a change to their female vocalist.  Janey Smith would be a really good addition to any band.  A powerful female vocal can change a band's direction and it looks like she is going to do this for Iconic Eye.
The basis of the original band is there and the music.  The title track is a strong opening which demonstrates what is about to be offered with some good guitar work vocals. But then… 'Jane' (the Jefferson Starship cover) is AAMMAAZZZING.  I like the original and this is a superb version.
'Ghost Town' opens with a nice solo that continues through the track with a bit of harmonising and the backing vocals support the lead well.  The instrumentation from the breakdown demonstrates the ability of the rest of the band really well.
This continues with the opening of 'Have My Day' with a really good guitar riff, the track reminds me of some Pat Benatar tracks, but that could just be Smith's vocals. The guitar riff in the breakdown is a very good demonstration of the ability of all the guys in the band.
'Femme Fatale' is another good track but probably the weakest on the EP.
My only complaint is that it is either the way it was mixed or recorded but the drums sound very "thin" throughout the EP, whereas all the other instruments get their moment in the limelight the drummer is a bit hard done by in my opinion.
Well done. I'd go see them if they're ever in South Wales and enjoy it, so cant wait for that day…
'Back From Behind The Sun' is out now. You can get your copy HERE.
Iconic Eye play a socially distanced, all-seated and livestreamed, show at KK's Steel Mill in Wolverhampton on Saturday 16 January. Tickets for both the live show and the stream are available HERE.
www.facebook.com/iconic.eye.music
All content © Über Rock. Not to be reproduced in part or in whole without the express written permission of Über Rock.