By Bona Pjarren
It's that time of year again and I have arrived at the O2 Academy in Sheffield for a weekend of progressive rock music. I arrive just in time to catch the first band.
They are called MonkeyTrial and are an ambient electronica group from the ÜK. They claim that they do soundscapes for imaginary locations and indeed this does seem to sum them up. While they are quite difficult to pigeonhole, they did remind me a little of some of Pink Floyd's stuff, particularly the Wish You Were Here era. Monkey Trial were a very good band with quite a trippy sound, and I really enjoyed them.
Moon Goose are the next group on stage and are a psychedelic space rock band from Hay-On-Wye. Emitting loads of weird and wonderful sounds they cruise through their set. Moon Goose are predominately an instrumental band with a Hawkwind bent while retaining an original sound.
Next on stage are Psychic Lemon and if ever there was a supernatural fruit it is these two guys. The band used to record in a studio in the back of a small garden in Cambridge but got evicted and now lead a nomadic existence. Combining guitar, with heavy effects and a drummer thy create a wonderfully weird ambient soundscape. They are another purely instrumental band that combine space rock, krautrock and psych to good effect.
After a short changeover The Fierce & The Dead take to the stage.   Formed in 2010, they released their breakthrough third album 'The Euphoric' in 2018 via BEM records to critical acclaim. It became Classic Rock Magazine's 'Prog Album of the Year' and eighth in Prog Magazine's critic's choice. They certainly lived up to their hype, and are probably the most typically proggy sound so far. Delivering great swathes of instrumental soundscapes, they delivered a tour de force of a show that took me on various mental journeys. The Fierce and the Dead are exceptional musicians.
Nth Ascension are a five-piece rock band from the north of England. They have recently released a studio album entitled 'Stranger Than Fiction'. They are the first band so far to include a vocalist, Spud Taylor, who has a beautifully warm and emotional quality to his voice. Nth Ascension have a big sound in a classic heavy rock styling, a sound that is augmented by some nice Hammond organ and classic synth style sounds. There were some really clever rhythmic changes from Craig Walker and Gav Walker which really added something to the overall sound. Martin Walkers exceptional guitar work was a real treat and hinted at times of Steve Hackett. Nth Ascension have an infectious familiarity about their work.
The Spacelords were founded in spring 2008 by Matthias 'Hazi' Wettstein (guitar), Marcus Schnitzler (drums), and Klaus Werz (bass). Klaus left the band in May 2014. With Ekhard 'Akee' Kazmaier on bass guitar the Spacelords have found their perfect line-up since June 2014. The Spacelords music is straight to the point with driving rhythms and an interesting mix of flanger and other typical space rock guitar sounds. They are an incredible power three piece with an elegant combination of spacey melodies and powerful riffs with which they have created their unique sound. It is easily accessible and really got the crowd into a party mood. Clever changes of tempo in places also helped produce a memorable set.
Hawklords are a British space rock band. The band started as a one-off ensemble of musicians formerly associated with Hawkwind, and playing Hawkwind tracks. Although the band uses the same name as the short-lived 1978 incarnation of Hawkwind, it is not a reunion or tribute, though three of the original 1978 Hawklords members (Bainbridge, Griffin, Swindells) were in the band when it reformed, but are not currently members. The album 'Time', released in August 2021, was the first to feature Dead Fred as a full member and the first not to feature Harvey Bainbridge who had left to pursue a solo career. This was the last album to feature Tom Ashurst on bass who was replaced by Mr Dibs ex Hawkwind/Spacehead/Krel in August 2021 in time for the October 2021 tour. Hawklords' stalwart Adrian Shaw appears on the track 'Take Off Your Mask and saxophonist/flautist Chris 'Beene' Aldridge appears throughout.
It is a real pleasure to see Hawklords live, every track has drive and the big nods to Hawkwind goes without saying. Spacey swirls back the driving heavy guitar and drum work and it all keeps the audience enthralled. Jerry mentions about the three chord tricks in the interview, but not only does it work, it works incredibly well. Basically, you know what you are going to get with a Hawklords gig and they definitely don't disappoint. Over the years they have honed their craft to perfection. Two of the highlights of the set were versions of 'The Joker' and a fantastic version of 'Masters Of The Universe', and finished off with 'Obscura' from the 'Time' album.
I had seen Carl Palmer many years ago at the Boardwalk in Sheffield and was suitably impressed at the time. But nothing could have prepared me for tonight's performance. Keith Emerson and Greg Lake obviously no longer feature and have been replaced by Paul Bielatowicz on guitar and Simon Fitzepatrick on bass and Chapman stick, and what a replacement that is. No Hammond but a definite Hammond sound. They began to show their incredible musicianship with a version of Hoedown that really got the crowd bouncing. There was a rare outing for 'Billy The Bouncer' (Greg Lake never liked playing this live). The version of 'Lucky Man' was exemplary and really showed off Simon's skill with the Chapman stick. The set was over far too quickly with a version of 'Fanfare For The Common Man'. Carl did a mind-blowing drum solo which really showed off why he is rated so highly. The years have not slowed or diminished his skill in any way, I have never seen him play better. The crowd demanded an encore and they duly obliged with a medley.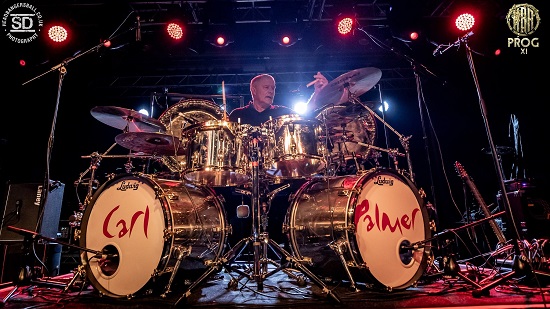 I cannot believe it's that time of night. Rick Wakeman is the headline act, and it promises to be a fantastic evening. Rick has been a stalwart of the progressive rock scene, not just playing in it but actively promoting it with his involvement with the Classic Rock Society. On top of that he has been involved in so many projects over the years including two memoirs and an autobiography, radio work and a plethora of albums including The Strawbs, Yes and various solo albums. It was nice to see his son Adam Wakeman take the stage with him.
Rick then embarked on an epic concert that showed he has lost none of his acumen on keyboards. The keyboard set up is impressive as you would expect, at least ten just for Rick. With a full backing band including his son Adam and an incredible female vocalist, I think her name was Hayley, they delivered various fantastic songs from Rick's back catalogue. 'Catherine' from 'The Six Wives of Henry VIII' was one such highlight. Part way through the set Rick announced that this was their last number. It turns out that the last number was 'The Myths and Legends of King Arthur and the Knights of the Round Table', which translated into 20 minutes of epic progressive rock that really showcased the bands magical abilities. After such an impressive final song the audience were, of course, clamouring for an encore. It came in the form of an old Yes song, 'Starship Trooper'. It was a stupendous end to a thoroughly entertaining day.
PHOTO CREDIT: Live photographs © Simon Dunkerley. Copyright remains with the photographer.
All content © Über Rock. Not to be reproduced in part or in whole without the express written permission of Über Rock.