By Bona Pjarren
I am at the O2 Academy in Leeds today for HRH Goth. What a venue this is for such an event! I think it was a theatre, then a cinema before becoming a live venue. It is however very Gothic and reminiscent of a church. Goths should feel well at home here.
Opening up the weekend's proceedings, Nottingham-based Witch of the East are a late addition to the line-up. Governed by singer songwriter Aeris Houlihan, they describe themselves as having an elevated dystopian, apocalyptic angst and deliver a harsh dose of reality through the dreaminess of their aura. Aeris, Zera Tonin and Manny are an inspired collective, a three-piece band comprising of drop tuned guitar, drums and vocals. Unfortunately, I only caught a small part of their set due to travel hold ups, but from what I saw they are a decent, tight band with a heavy haunting sound.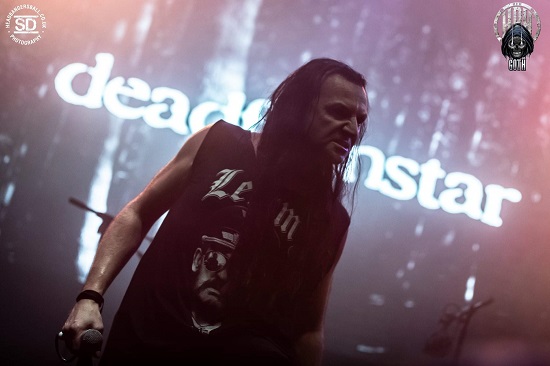 Deadfilmstar are an "industrial gothic rock band with a naughty swagger". This Coventry band have supported Combichrist, Covenant and Mortiis in the past and have been steadily growing their reputation. With Gary on vocals and Esther on keys, they combine to make a potent combination when it comes to inciting the audience. They hit the stage with attitude, with heavy driving chord progressions and a frontman with loads of threat which makes them utterly compulsive as a live act. I think there was also a touch of Iggy and the Stooges in their sound, but much heavier. I loved 'Hello Cruel World'.
Unfortunately, I missed Essex-based industrialists Drownd completely as I needed to check into my hotel and it took longer than I expected (doesn't everything?), so next on my hitlist were The Webb, who say they are quirky first-wave goth/electro-punk revivalists with DIY ethics in a time of their own with schizophrenic tendencies. Based in The Wirral they have released an incredible nine albums to date. Their latest release seems to be 'Haunted House', though they do have plans for a further new album. The Webb are strangely compelling with their Eighties sounding synths and drum machines; it reminded me in parts of Siouxsie Sioux. Quite a few of the crowd seemed to really enjoy The Webb, with great tracks like 'Alice In Wonderland' really showing off their punk/goth credentials.
I have to say I really enjoyed Chorley's All My Thorns, from the baritone vocals of Drew to the powering basslines of Kory. There were some interesting atmospherics going on at the beginning of their set. The crowd listened attentively as they delivered one doom ridden track after another. Drew has got a striking stage presence that really keeps you focused. Take for instance 'Deception': it is a laid-back ethereal number with hypnotic appeal that lulls you into a false sense of security before launching into something heavier and grinding. Their songs are well thought out and arrangements make for compulsive listening. They finished with what could well turn into a goth anthem, 'Dreamscape'.
Red Sun Revival is an alternative/gothic rock band which was formed in London in 2011. The line-up consists of vocalist/guitarist Rob Leydon, bassist Panos Theodoropoulos, and violinist Christina Emery. The band's sound is defined by sonorous vocals with intricate, often sparkly guitars which float over driving bass lines and weave amongst haunting violin harmonies. With clever use of samples and backing tracks the sound has echoes of the orchestral and choral aspects of film soundtracks and often incorporates elements of folk music. Red Sun Revival were a late addition to the bill but fully worth their inclusion. Their songs are soaring, orchestral and dark with lots of ambience courtesy of Christina on violin. There is also some nice guitar work on display. They are incredibly tight and soon have the crowd singing along. All in all, a quality band that redefines goth music.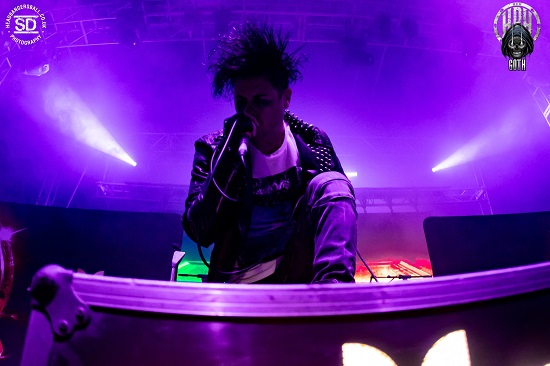 Jason Charles Lewis, professionally known as Jayce Lewis, is from ÜR's spiritual home of south Wales. In 2009 his self-produced single, 'Icon', achieved a certain amount of notoriety. Lewis' stage show is eye catching to say the least, with huge banners decorating the stage and announcing his presence. He has a massive industrial/tribal sound. I was mesmerised just watching his drummer. He also really knows how to work a crowd. But with strong song writing abilities backed with a flair for picking excellent industrial sound loops his performance is a tour de force of industrial gothic music. It does not surprise me that he has supported Gary Numan on three separate occasions.
Starting with 'Harmonica Man', headliners Fields of the Nephilim strut onto the stage wearing their trademark hats and duster coats. The crowd immediately respond and when they start into Preacher Man the dance floor explodes into action. People have been waiting for this all day and you can see it in their response. 'Endemoniada' is followed by 'Love Under Will'. Looking at the response from the crowd, Carl McCoy and company have lost none of their appeal.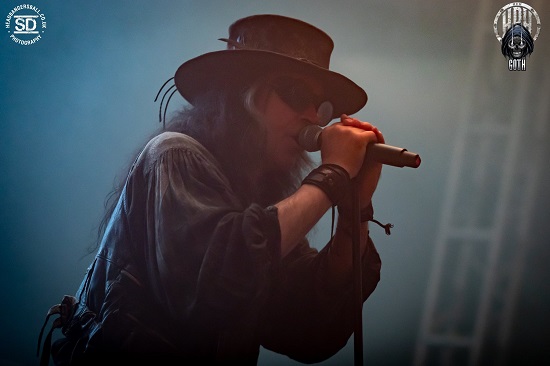 Overall, while The Nephilim put on an accomplished set, and they are another band ticked off my bucket list of groups to see live, I didn't feel that they translated into the live environment. For a start, there was so much smoke on stage at times you couldn't even see the outlines of the musicians. There was no verbal interaction, that I witnessed, between Carl McCoy and the audience. Consequently, I felt that The Nephilim live experience didn't give me anything more than if I had listened to them at home on my computer.
The sad thing for me was that there was a significant number of audience members who had only come to see them and consequently missed some great support acts. Take The Webb for example, I really only got them when I saw them live: they came across far better than they do on their videos, being a good fun band live. I also really enjoyed All My Thorns and Red Sun Revival. My favourite band of the day was Deadfilmstars as I really liked the way Gary and Esther worked the crowd. In my opinion they should really have had a higher billing.
Sunday's bill is kicked into gear by Novus, led by singer Sarahjane Farr, the voice behind '90s dark beat pioneers Faithful Dawn, post punk band Scandacross and guest vocalist on electro act Hexedene. She is joined by Peter Jones on guitar and Blackstone Angie on bass. To date, Novus have released just one album entitled 'Redesigning The Future', on ÜK-based Rebco Records back in 2007 and digitally on ÜSA-based Doppler Effect the following year. Novus are a fun first band for the day. With backing tracks and drum machines they bring a dance orientated form of techno goth to the stage. I think they did have a couple of technical problems with some of their equipment, but they quickly sorted this and got on with it. Good sound overall and an enjoyable first act.
In Isolation now take to the stage to the sounds of synthesized wind tones and jangly guitars ring out as they launch into their first number. It's a very Eighties feel that transports you back in time. I found their style reminiscent of Orchestral Manoeuvres In The Dark, they have a New Romantic feel. In Isolation have some very catchy songs in their set and are obviously melody driven. Check out 'The Man Who Hides For Love'.
St Lucifer are a Manchester-based industrial/anti-pop/noise four piece. Following a gentle, almost fairy tale intro, David, Alice, Ashleigh and Amy suddenly launch into their trademark heavy Industrial sound. Second song in is 'Trashorama' their second released single and it rocks. The electric drum kit is an integral part of their sound as are the iconic key sounds and interesting samples. Nicely performed versions of 'Raise The Dead' and 'The Witching Hour' just add to the overall performance. I think I will have to add their latest album, 'Deathcrush Palare', released just last month, to my collection. As you can tell I like this band a lot; it is my sort of thing to be honest.
Innovators and outstanding performers, Seething Akira are known for infusing metal, EDM and seamlessly encompassing drum and bass with shredding metal guitars and commanding vocals.
Live onstage they have attitude, the heavy riffing and hardcore vocals of a great metal band. It is a very distinctive full sound. The whole band encourage the audience to participate; they don't necessarily rely on the frontmen. As with a lot of bands they use samples and backing to reproduce their unique sound live. Seething Akira have some truly inspiring samples from industrial to techno. I have been aware of Seething Akira for a few years now, through playing some of their tracks on my radio show and was really looking forward to seeing them. They did not disappoint: in fact that is the best way to really appreciate them. My recommendation? Go and see Seething Akira live when you get the chance: they will thoroughly entertain you.
Founded by singer and producer, Kyle J. Wilson, and guitarist, Kieran Thornton in the industrialised north of England, Auger's sound is a unique blend of gothic, electronic and metal. Their last album, 'Insurgence', was released last year and features the singles 'We Are Auger' and the title track. What a great stage presence Kyle has, belting out the songs with his deep sonorous vocals. Kieran ably backs him on electric guitar and obviously this is all performed to a backing track to get their full interesting sound. They can really up the tempo when they want to. I missed a good part of their set due to interview duties, but I liked the parts I did see.
Time for some darkwave electronica next, thanks to Massive Ego, who are joined for this show by Auger's Kyle J. Wilson to join them on bass, keys and guitar: yes, he is that talented. With songs centred around the darker side of life – depression and anxiety, death, suicide, love, sex and vampirism – they have a great up tempo set that really gets the foot tapping. Classic dance weaves around fat dirty synth sounds. Massive Ego have one of the best frontmen of the weekend so far in Marc Massive. 'I Idolize You' is a great single.
Lord Of The Lost are another band with a huge sound. Formed by Chris Harms in mid-2007 in Hamburg, Chris' original intention was that it would be a solo project but quickly realised that he needed to form a band. This he consequently did with the help of musician friends from the Hamburg area, and since then they have carved out quite a name for themselves on the industrial scene. I mean, let's face it the industrial scene is massive in Germany, so it is little surprise that Lord Of The Lost turned out to be a great band in their chosen genre. And they are a really talented band, I was impressed when they started playing in a Latin style on 'Lore'. Incredibly tight with great interplays and interesting arrangements between the various instruments. They also did a great cover of 'Ordinary World' and played 'Judas' from their last studio album of the same name. Again, I could not get to see their whole set due to interview commitments.
And so we come to our headliners, and local heroes, My Dying Bride. The Bradford doom legends should need no introduction, as over the course of their 31-year career they have released 13 studio albums, three EPs, one demo, a box set, four compilation albums, a live album and a live CD/DVD. Along with Anathama and Paradise Lost, MDB were part of 'The Peaceville Three', forerunners of the death doom and gothic metal genres during the early 1990s.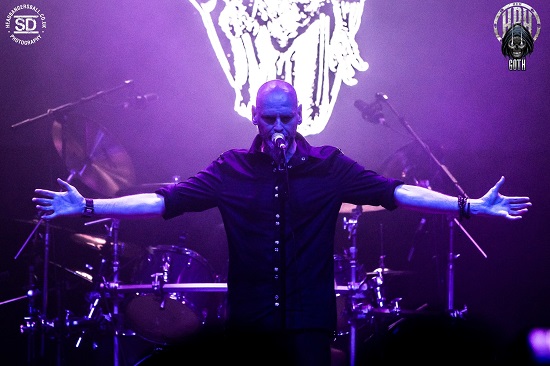 Their set got off to an inauspicious start with the band suffering from long periods of bass feedback, which really marred their first song, 'The Wreckage Of My Heart'. 'Like Gods Of the Sun' was better. I don't know if the feedback had affected their performance, or maybe initially they just weren't feeling it due to the noticeably smaller audience, but I did feel like it took them a bit of time to get into their swing. Some of Aaron Stainthorpe's apologies got a response of "get on with it" from a particularly belligerent member of the audience.
In fairness that rapidly improved after this and MDB started to put together a solid and enjoyable set. I loved 'Your Broken Shore' with its folksy overtones courtesy of Shaun MacGowan.' To Shiver In Empty Halls' did have some suspect double kicks in it but redeemed itself with soaring keyboards and some nice growly vocals from Aaron. It was much more like the epic track that I have come to expect from My Dying Bride. They finish with 'She Is The Dark' and 'Turn Loose The Swans'. Overall, it was a very enjoyable set from a classic doom metal band, but in truth I have seen them perform better. And there is an argument that Lords Of The Lost would have been better headliners.
PHOTO CREDIT: All photos © Simon Dunkerley/Hard Rock Hell.
HRH Goth 2 will take place at the O2 Academy, Leeds, over the weekend of 10-11 September 2022.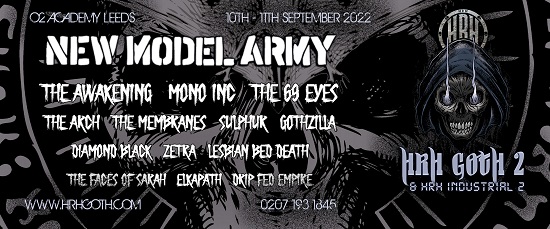 All content © Über Rock. Not to be reproduced in part or in whole without the express written permission of Über Rock.