Review and interviews by DJ Astrocreep. Photos by Simon Dunkerley.
The second day in a dreary Sheffield sees a ridiculously strong main stage line up against a reliable second stage headliner and some bands that are otherwise unknown to me – still, listening live is a damn good way to find some new bands to love, right?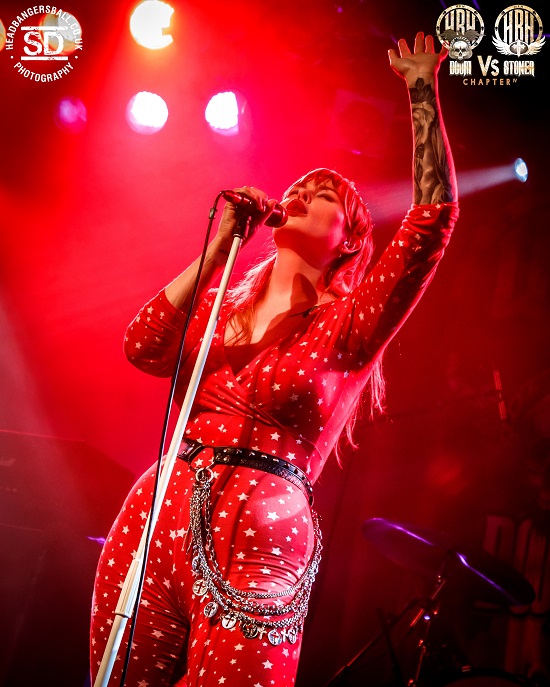 Alunah open proceedings for the second day and it's nice to see more faces down than at the start yesterday. The Birmingham doomsters play a great set that's well received and clearly grabs the attention of the audience, with vocalist Sian a commanding presence in the middle of the stage. A very welcome start to another long day of bands!
Red Spektor have been at previous HRH events, so are a known quantity, something that reflects in the growing crowd that welcome them to the stage. They have quite a variance of sound, going between psychedelia, blues and some groovy rock, giving us a taste of something different at this early stage of the day and it's clear from the crowd's reaction that this is a positive thing. Heads nodding, feet moving, their heavy blues works a treat with a really enjoyable set.
Oak are the last band to hit the main stage prior to start of the second and it's a pretty good crowd at this point for them to come on stage to. Bludgeoning vocals, lots of Sabbath-like riffs and plenty of sweaty, topless action from most of the band equals plenty of hails by the end of their set, just reward for an in your face, full of attitude performance!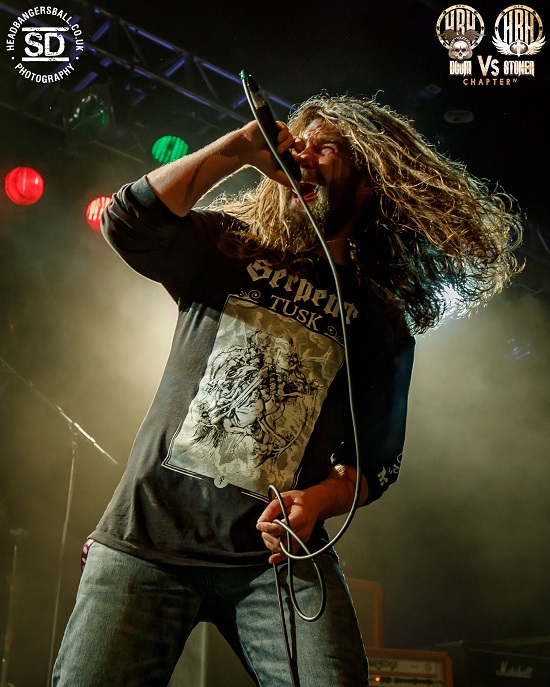 Ten Ton Slug start just ahead of the second stage opening, meaning they grab the lions' share of the crowd and man, do they put on a show for them. A very busy main stage crowd take to them well, with plenty of rhythmic head banging showing their efforts are very appreciated. A wall of noise, some deep to guttural vocals and a general penchant for making a fuck ton of heavy riffs sound heavier still mean they're well worth their place on the bill.
Superseed open the second stage to a disappointing number, given how busy every other band has been the day before on the same stage. They're the lightest band over the weekend and this comes across both in terms of the numbers and the quite muted response. They're good enough musicians but this simply does not feel like the right bill for them, nor does their set flow in a very coherent way. I don't dislike their songs either but the issue I have is I find myself having to think of something positive to say and that should not be the case for any band on a festival covering my favourite genres of music. The sound, while diverse, goes too far into that diversity, harking back to the previous mention of a disjointed set. A pity as they strike me as musically capable of more.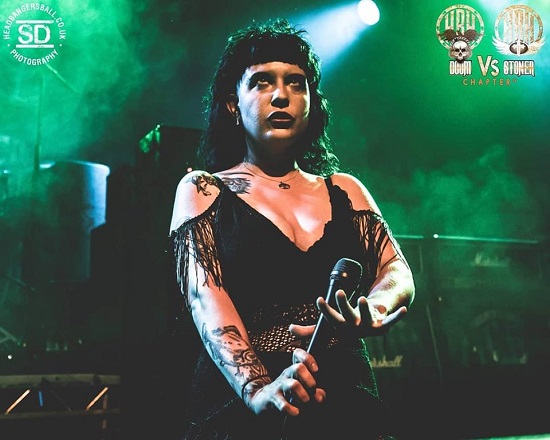 Rising fuzzy occult lords (and lady) Dead Witches take over the first stage to a good crowd, with their thunderous mix of fuzzy doom and occult rock. Having caught them at their album release party at Heavy Psych Sounds fest, I had an idea of what to expect and they dont disappoint. As before, they absolutely smash the set with a mix of both albums providing a contrast between both singers they've had, with Suzi doing a more than adequate job with Virginia Monti's tracks. Fantastic, atmospheric set.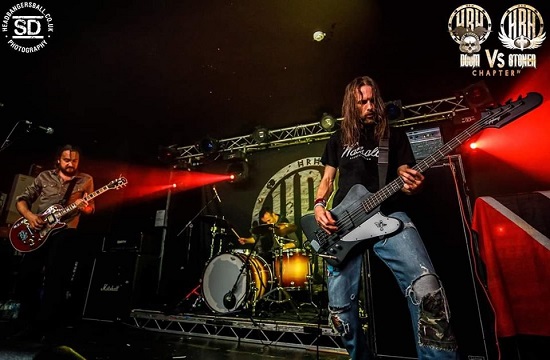 Cower, Hounds! start a fairly quiet room, which is no surprise given the strength of the main room today. Very much in the stoner genre, they do a very good job and gain more of a crowd as they play, whether people returning from food or pulling a few from the main stage. A very creditable performance in an awkward billing clash.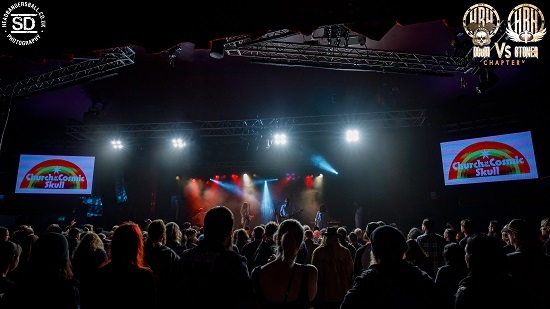 As Monty Python would say, and now for something different. Church of the Cosmic Skull are to doom and stoner as Ghost are to metal – a rather glorious throwback to a rather different era. A mixture of almost shoegaze like psychedelic dream pop meets Journey hybrid, they draw a pretty full room, bedecked all in white, with some prog like off timings that work exceptionally well, bringing forth a swaying mass of bodies across the floor as people are seemingly hypnotised into the movement around me, while the harmonies, both vocally and musically, are intricate and superbly woven. Their set feels like a truly moving, almost spiritual affair and they are undoubtedly one of the acts of the weekend.
Doomicidal are our penultimate stage two act for the festival and while certainly towards the psychedelic end of doom and able musicians, the show on the main stage is trouncing them and with good reason. They're not a bad act musically, but there's definitely more than a twinge of cringe about the vocals and it's noticeable how the room empties out over the duration of the set. It's a stark contrast between the rooms, which is pretty much the first time I've felt that during the few years I have covered the HRH festivals. I return a couple of times through their set to give them more chances, but it definitely feels like time wasted that could have been better spent seeing more Church of the Cosmic Skull.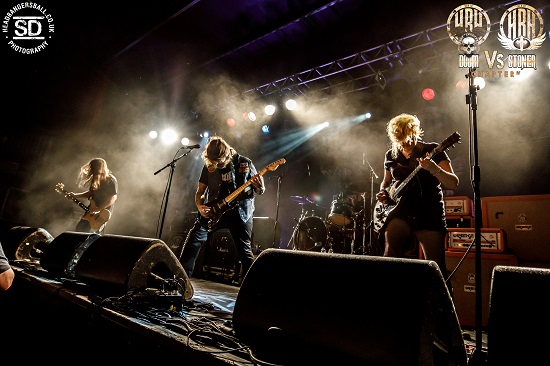 Fireball Ministry once again bring their old school rock to HRH, with their infectious groove a staple for a fairly busy crowd, who can be seen headbanging along from my spot on the balcony, as I dart between both stages to try and catch as much of both bands as possible. The LA rockers know just how to get the crowd going – just as well, considering they're our penultimate band of the main stage for this year's festivities and they do well through the set against quite stern opposition in Master Charger who are closing out the second room. An enjoyable way to prepare us for the final act of the festival.
Master Charger close the second room for the festival and it's good to see that the room is back to being quite full for their set. It's their third set at an HRH event this year, so festival regulars are already aware of just how good Master Charger are. Motorhead meets Black Sabbath is a pretty apt way to describe the old school feel of these guys and even though they open with a couple of new tracks from their as yet unreleased new album, the audience is clearly into them from the off. They progress well through the set with another strong showing, as has been their trademark over the years, showing yet again why they are worth such a high billing. A great way to close off a mixed bag of a second room.
So here we are, down to our last headliners in Monolord, the Swedish doom overlords. The room is packed, with little sign of a late Sunday night stopping us from enjoying the heavy noise echoing around the room. The hypnotic nature of the music draws us all in for one final act of whiplash, like it or not, through their rhythmic set. The sea of heads below me move along to the bass and drums as they show their appreciation the only way doomsters know how – nodding heads, a few bodies shuffling in tandem with the beats and a sheer love and appreciation at the end of each track for some heavy fucking metal. A fantastic way to finish off this year's instalment of the Doom vs Stoner franchise.
Band of the day? A hard-fought draw between Master Charger, kings of the second stage and Church Of The Cosmic Skull from the main, who in turn fought off some heavy duty competition from everyone on the main stage billing today.
PHOTO CREDIT: All photos © Simon Dunkerley/Hard Rock Hell. Copyright remains with the photographer.
All content © Über Rock. Not to be reproduced in part or in whole without the express written permission of Über Rock.