By DJ Astrocreep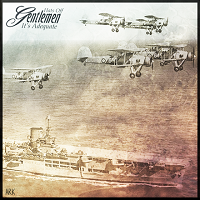 These days, it's pretty rare to get something actually different from the usual genres and while we cover a fair amount of music, it's actually pretty cool to receive something actually very different from the usual. With Hats Off Gentlemen It's Adequate's new EP, we actually have something which is just that. A mere three tracks might be short for some EPs, but clocking up 25 minutes between the three tracks hints at a more progressive approach, so in I dive…
There is certainly a different feel to each of the three tracks on the EP. Opener and the title track, 'Ark', is an almost 12 minute long instrumental, inspired by the grandfather of one of the band, Malcolm, and his experiences in the Second World War and the Ark Royal. The track itself contains an almost progression in itself, really feeling like a story is being told which is quite the skill to master and lends a definite credence to the EP and the abilities of the band. The mental images you get-go between a more urgent firefight to a softer soaring above the clouds as the fighting is over, charting the progression of a flight for Malcolm's grandfather.
'Chasing Neon' is a much more up-tempo, retro-futuristic track, which wouldn't feel out of place if played in a Cyberpunk style computer game or film – even something along the lines of Tron would be quite fitting. While half the length of the opening track, it demonstrates a variety of sound that is rare to get in an EP certainly – sometimes even in a full album release. This continues with the last track of the EP, a re-arrangement of the Irish folk song, 'She Moved Through The Fair', where we finally get to hear Malcolm's rather striking and sumptuous vocals. The arrangement itself bears a resemblance of the original while being translated into something much more Malcolm's own, with the added bonus of a rather lifting guest flute spot adding even further depth and layers to an already gorgeous sonic landscape, chock full of melodies.
In short, whilst this EP may only comprise of three tracks, one a cover, it shows a strong depth of both songwriting and technical musicianship, with the layers being arranged to a very high standard. It would be highly recommended for anyone into their prog, singer/songwriter and electro-rock, or for anyone into generally stunning musicianship. An excellent introduction for myself to this band and one I shall keep an eye on for future releases.
Ark is released on Friday 6 September. You can get your copy HERE.
All content © Über Rock. Not to be reproduced in part or in whole without the express written permission of Über Rock.