By Phil Cooper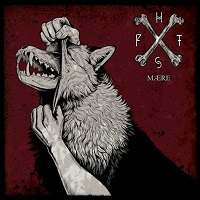 For the last decade, Austrian metallers 'Harakiri For the Sky' have been enthralling fans with a blend of atmospheric, melodic black metal. They've built up a devoted following with the release of critically acclaimed albums such as 2018's 'Arson' a record that delivered a bleak yet captivating sound that made it a must for many. 2021 brings about their fifth full length release and sees them once more delivering a weighty record of dark, mesmerising melodies accompanied by punishing riffs and rhythms.
Opening with 'I, Pallbearer', one of several singles already available from the album, we're very quickly introduced to a band who have found their form and are setting up to deliver one of their finest albums to date. Beginning with an unassuming reverb laced guitar line, the layers of textured build to include a chunky guitar chord riff and a thunderous sounding rhythm section. Then the fury of the band is unleashed in a tidal wave of sound. The opening phrases are hypnotically holding their pattern as the drums, bass and additional guitars create a chaotic swirl within which the guttural vocals sit with perfect clarity. It's a track that encapsulates the raw, vicious power of the band's potential, captured with the delivery of the drums and riffs. Yet this intensity of the attack is balanced by the evolving melody lines that are laced throughout, creating a knockout of an introduction.
The delicate outro piano of 'I, Pallbearer' gives way to the clean guitar chords, deep bass drum introduction of 'Sing for The Damage We've Done'. This lead up contains a sense of urgency within it's relative calm that once again explodes into a torrent of blast beats, guttural vocals and a wall of riffs. The quality musicianship of the band steers what could be an undecipherable cacophony into a rounded track delivering catchy phrases and hooks within a tightly balled fist of angry, atmospheric black metal. It's clear to see why this was another of the pre-released introductory tracks to the album as it once again exemplifies the high energy power with a melancholic twist that established fans have come to appreciate from the Austrian duo.
At just two tracks in, 'Maere' is living up to a potential to be the most exciting release from the band thus far. As it progresses it becomes even clearer that Harakiri For the Sky have found their groove and are enjoying every minute of the music they're creating. Tracks like the epic 'Us Against December Skies', with it's crunching staccato riff accompanying tremolo picked guitar lead lines introducing a sweeping, melancholic track that still manages to hit an uplifting mark with its delivery. 'Three Empty Words' is nine and half minutes of aggressive, head down metal that releases a wave of energy throughout. The brief melody breakdown in the latter part of the track serves as a pause for breath before building to a thunderous crescendo to a fade out.
The album rounds off with an excellent cover of Placebo's 'Song to Say Goodbye'. With the opening bars of gentle piano and guitar intro, one completely forgets the length of this album getting fully absorbed in the seventy odd minutes that precede this moment. That is a testament to the quality of the song writing and delivery of the band that there is never a dull moment. 'Song to Say Goodbye' ebbs and flows keeping the piano a focal instrument and building upon the melodic phrases to deliver a closing track that even as a cover, fits the theme of the whole album.
We're still living in strange and difficult times. Music serves as an escape and an outlet for a number of emotions. The ten tracks offered up here encapsulate the rage, chaos, frustration and melancholy that have been so prevalent. Yet, within the melodies and riffs there is an air of hope that exists as a spark.
An ideal soundtrack to our current times. 'Maere' builds so much on the albums that have come before it. Although, to say it's a culmination might make it sound like Harakiri For the Sky have peaked. Rather, this album provides a clear example of what it is when a band have hit their mark and found their groove. It's an album that showcases them at their best, with high quality song writing and technical proficiency honed over the previous decade. 'Maere' offers up riffs, melodies and powerful rhythms that captivate throughout. It will be exciting to see how they build on this release. Ignore it at your peril because as 2021 gets started, this album is certain to create a wave of positive feedback that it will ride all the way to the end of year lists. Beyond that, possibly serving as a benchmark album in the genre.
'Maere' is released on 19 February. You can get your copy HERE.
www.facebook.com/HarakiriForTheSky/
All content © Über Rock. Not to be reproduced in part or in whole without the express written permission of Über Rock.