By Jason Daniel Baker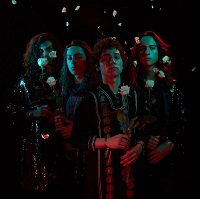 The stars appeared to magically align over January 2019 favoring a band of merry elfin musicians from the tiny town of Frankenmuth, Michigan. They appeared on Saturday Night Live on the 19th of the month and were featured in Rolling Stone the morning of the same day. Some would herald it as an arrival. Online research afterward revealed to me that it is just one step on a rapid, steady ascendance towards prominence out of nowhere.
With some trepidation, and no preconceived notions, I watched their performance. At my advanced age novelty is never the draw it once was. I don't trust it. In my younger years, novelty wasn't a draw then either. I wanted what I always want – melodic hard rock/metal/stoner music. I'm delighted to say I have identified a new supplier. But I won't pretend they're perfect.
SNL offers such a mixed bag in their yearly package of musical guests the viewer does not necessarily know to expect something good. I was prepared to channel surf over to something else as I do more often than not and was poised to click my remote as the opening chords played. As for Greta Van Fleet, I had never heard of her. It took a moment to figure out their singer was not a her and that none of the musicians were. They've done themselves no favours with such an esoteric identifier which turns out to be an homage to a girl from their tiny hometown.
Going on around midnight they kicked it playing 'Black Smoke Rising' (the title track of their latest album) with no evident jitters, which can't have been easy to do in a moment which places one's ego in the cross-hairs of a firing squad. Millions upon millions of people world-wide watch this show to pan or to praise any given moment. Almost no band on the planet would have the temerity to believe they deserve a letter of introduction to a potential fanbase than the musical guest slot on SNL can give an act. A fair number of the same tunesmiths would shit a brick (Skidmark Night Live?) if they actually got to that high plateau.
Greta Van Fleet's blend of heavy blues with melodic vocals harkened back to an age when a sound like theirs was king on FM airwaves. Reaction on social media was fascinating to me. The term "Led Zeppelin" immediately started trending on Twitter and a few clicks identified Greta Van Fleet's performance on SNL as the cause. It was not entirely a favourable comparison. Many used it as a kind of dismissal – i.e. another Zep tribute performing original music as a kind of "fan fiction" interpretation.
It dovetailed nicely with the Rolling Stone article of the same day in which the band tried to quash comparisons to Led Zeppelin. As anyone in media knows an excellent way to invite comparisons is to publicly attempt to refute them in an article which cites a definitive source that defines them a certain way. The definitive source was Zep vocalist Robert Plant who compared them to his old band circa roughly a half century ago. For context, Robert Plant is not always known to cite similarities to Led Zeppelin as a good thing.
Vocalist Josh Kiska sings in a capricious manner which uses the raw power emanating from his pipes to hit high octaves but also mine emotion and conviction. The comparisons to Led Zeppelin vocalist Robert Plant remain though they are off base. Josh Kiska has more of a Steve Marriott/Terry Reid vibe going. His brother, guitarist Jake Kiska, however, sounds more like Jimmy Page than Jimmy Page does and appears to mimic even Page's stage movements whilst playing.
The combination of those elements in conjunction with a solid rhythm section (Sam Kiska on bass & Danny Wagner on drums) offer something more than formidable but less than unique at this stage. But bands evolve. Sometimes in a good way. Right now, they rest precariously within a nostalgia niche that bands like Wolfmother and The Darkness were placed in. They're on a world tour now. But they could be playing a Bar Mitzvah in Kalamazoo in few years.
The front man, Josh Kiska, like any front man, takes the brunt of the criticisms about the look of the band. Due to the vertically-challenged stature and ethereal visages of the Kiska brothers (Who look like the love-children of Bob Dylan and Joan Baez) and Wagner, Lord of the Rings got referenced in conjunction with them. It is all good. If they'd played Middle Earth, I think even some of the Orcs would've flicked lighters in approval.
For their second set on SNL (If you can call a single song a set) they performed 'You're The One' – a maudlin reflection of blue-eyed soul with simplistic structure and minimal lyrics. It was not nearly as impressive as the first set. Nothing wrong with the performance. Just an inferior tune. All in all they did well for themselves in their latest star-turn. They couldn't blame first-timers nerves as they've been here before somewhat.
They performed their showstopper 'Highway Tune' live on the HBO series 'Shameless' in 2016, Apple Music named them 'Artist of the Week' upon release of their EP 'Black Smoke Rising'. They won Best New Artist at the Loudwire Music Awards in Fall 2017 and released an eight-song EP entitled 'From the Fires'. This latest push is just another building block in a long march.
They're on world tour (hitting Europe in February and the Über Kingdom with a series of sold out dates in early March) promoting their debut album, 'Anthem Of The Peaceful Army', that they put out in October 2018 and which debuted at number three on the Billboard chart. They were stunned to find themselves nominated for four Grammy Awards in December.
With all of that behind them how could it be that fans of classic rock 'n' roll and hard rock like myself would fail to discover them until now. Well, fans of classic rock 'n' roll and hard rock like myself have long been alienated not only from the mainstream corporate music press but definitely the Grammy Awards – a spectacle we simply haven't been able to trust to recognize the kind of music we actually listen to. We pay as much attention to the Grammy Awards as they pay to us.
So is Grammy recognition a good thing? That is a very good question. I can only view it with the suspicion of anyone whose musical preference is hard rock and heavy metal. Every once in a while, music sales slump and record companies put out a smorgasbord of different young bands active in formerly popular niches seemingly as a gauge to see where audiences might be leaning. Greta Van Fleet has been moving units at an impressive rate. Hench the push and the recognition? Perhaps.
But what if their best music is ahead of them? What if they'll be able to consistently produce the kind of thing that a lot of us have been clamouring for whilst marooned on a island of pitch-corrector infused, synthesized pop shite? One can only hope.
I say they're worth checking out if they're playing within the reach of where the reader can travel to. But a good critical mass of live video and written accounts remain online for those concert-goers wanting to do independent research into whether they might provide the kind of live music experience worth the asking price and the hassle.